How it's going--October 17th update:
Well ladies and gentlemen, boys and girls...we are done our basement project! There may be the odd adjustment or minor tweak that needs to happen, but the project is basically wrapped up and it looks FANTASTIC! I'll try to post a few more pics next week as well. Take a look at the pics below. And for fun, scroll all the way to the bottom as a reminder of where we started!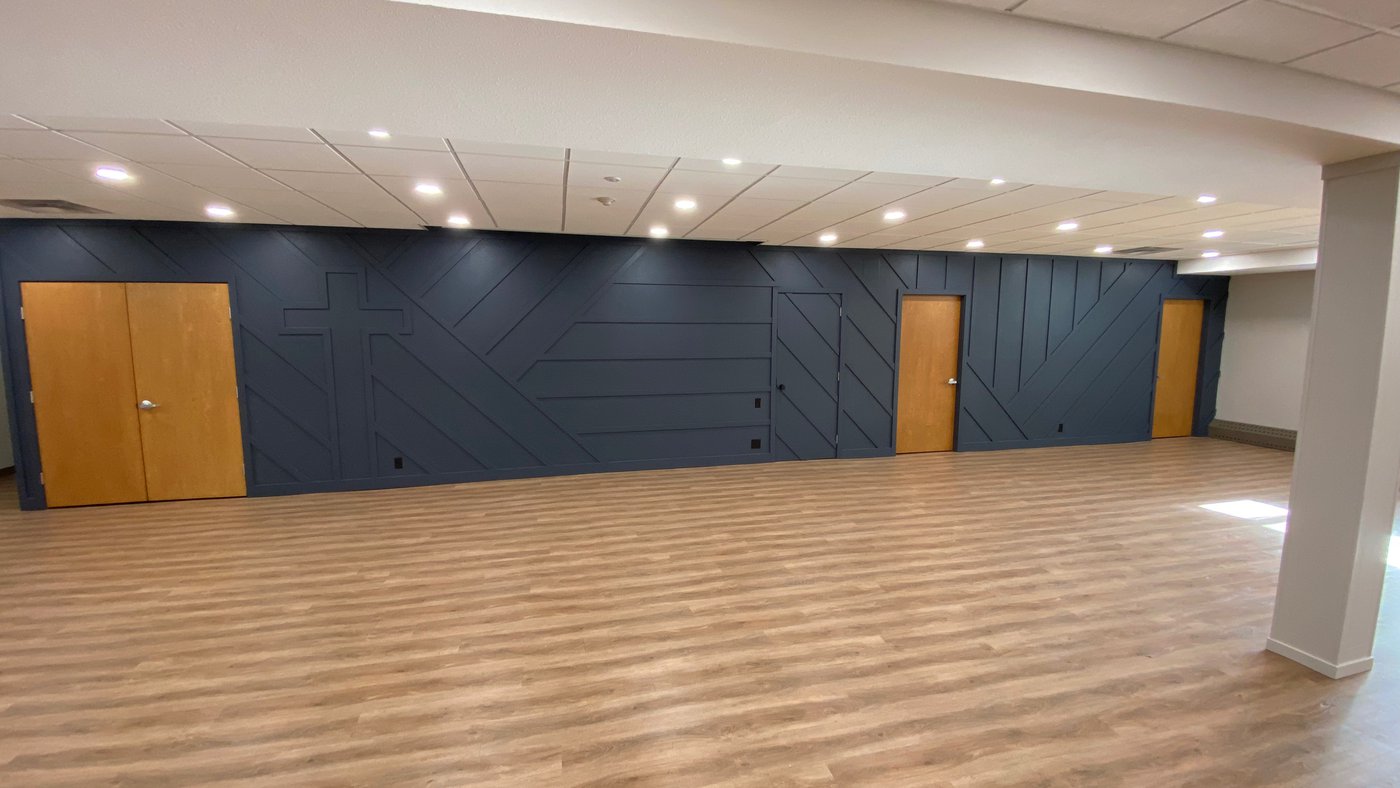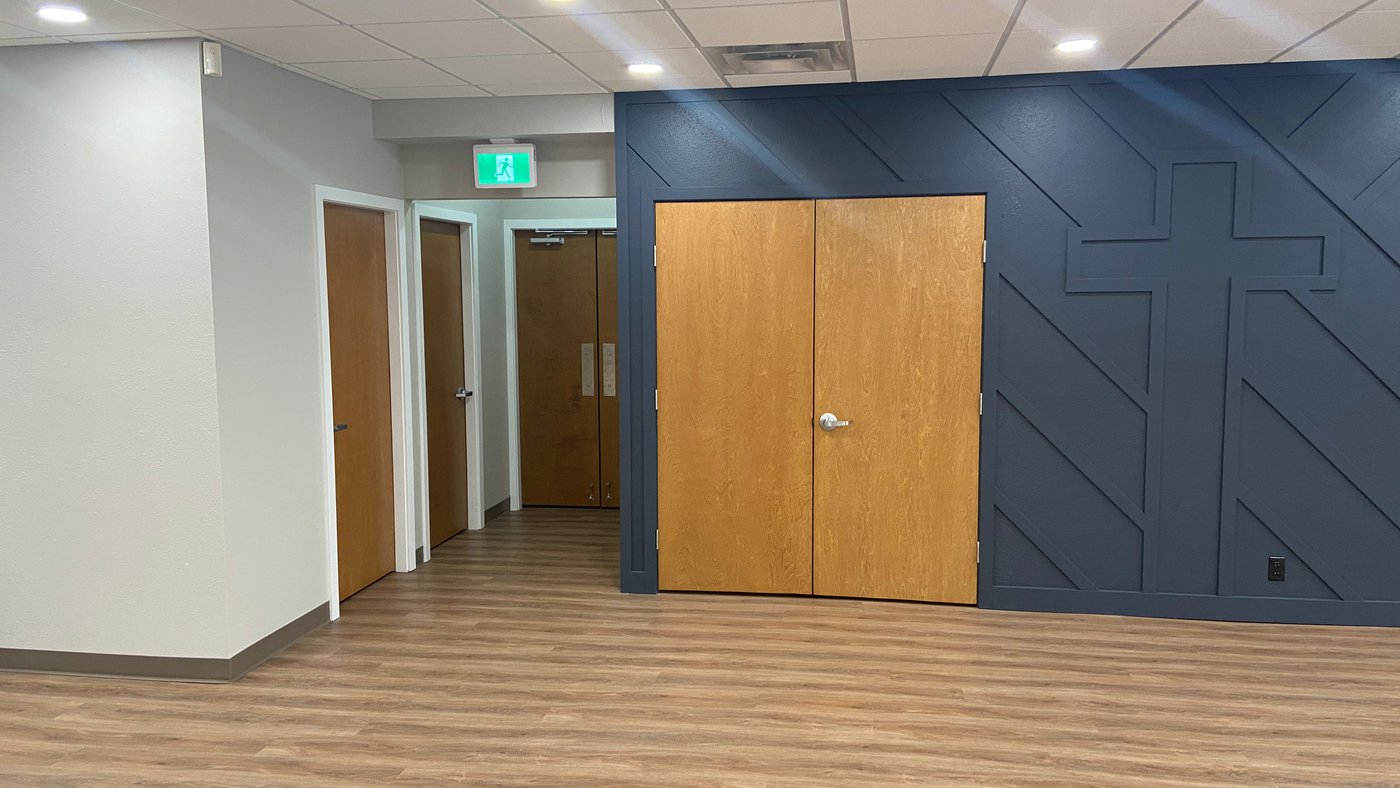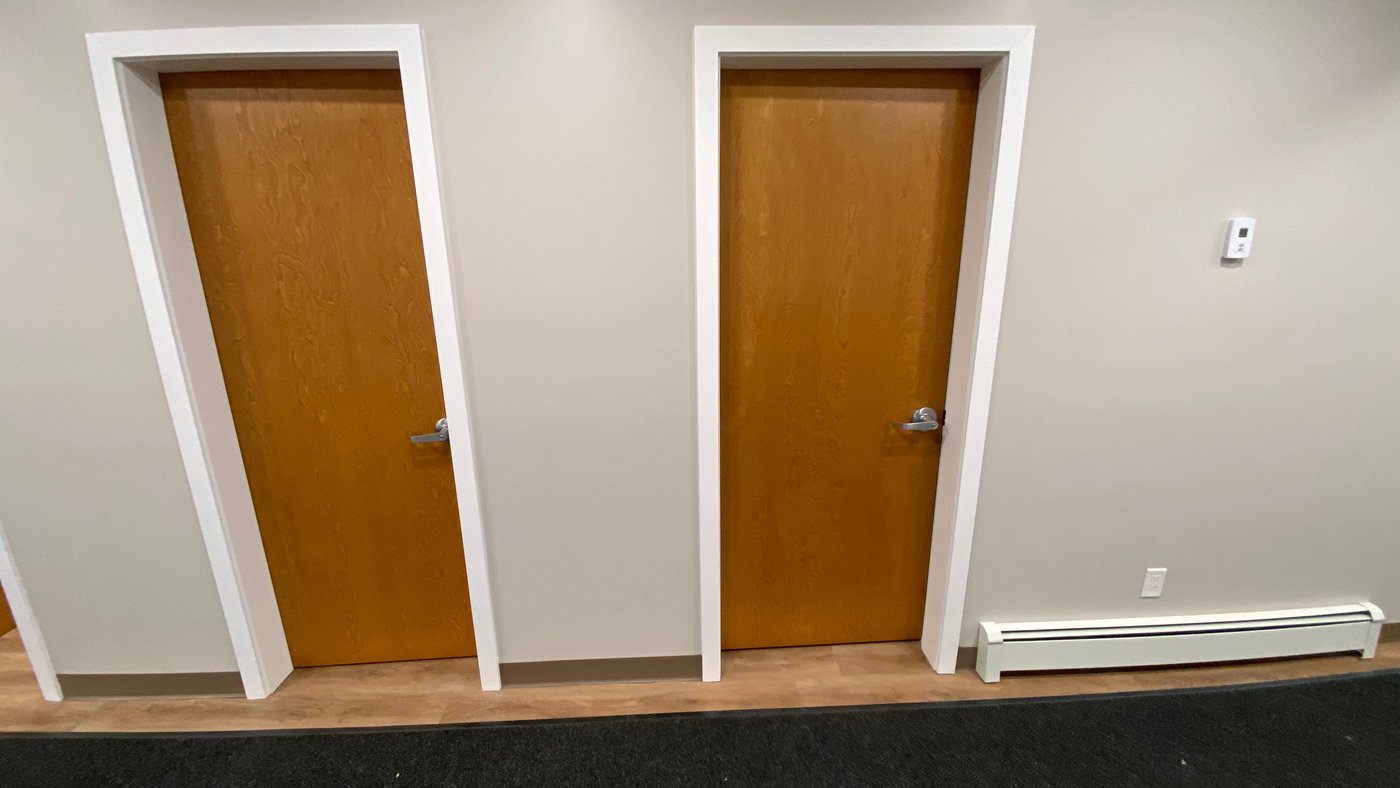 PREVIOUS UPDATES: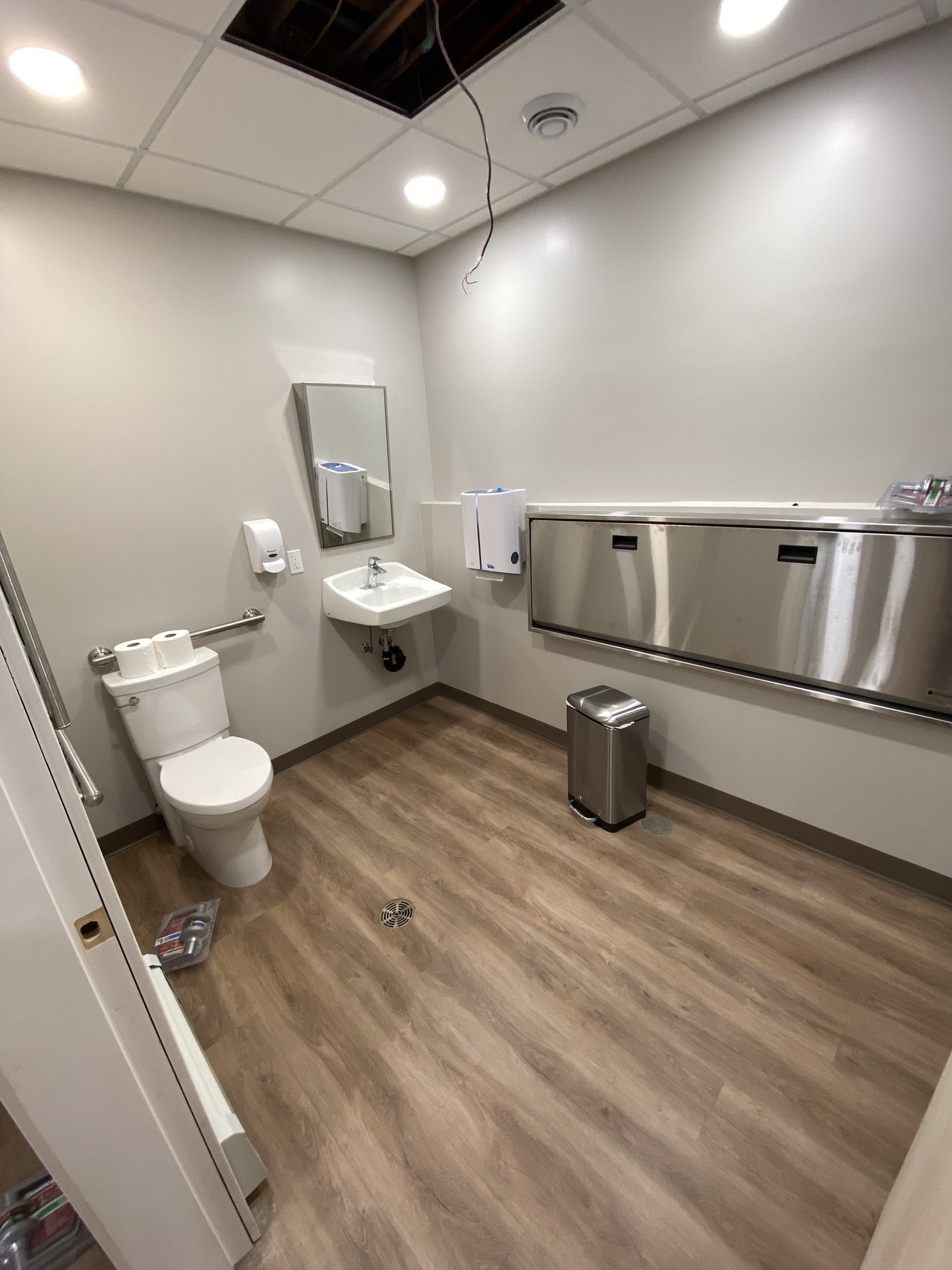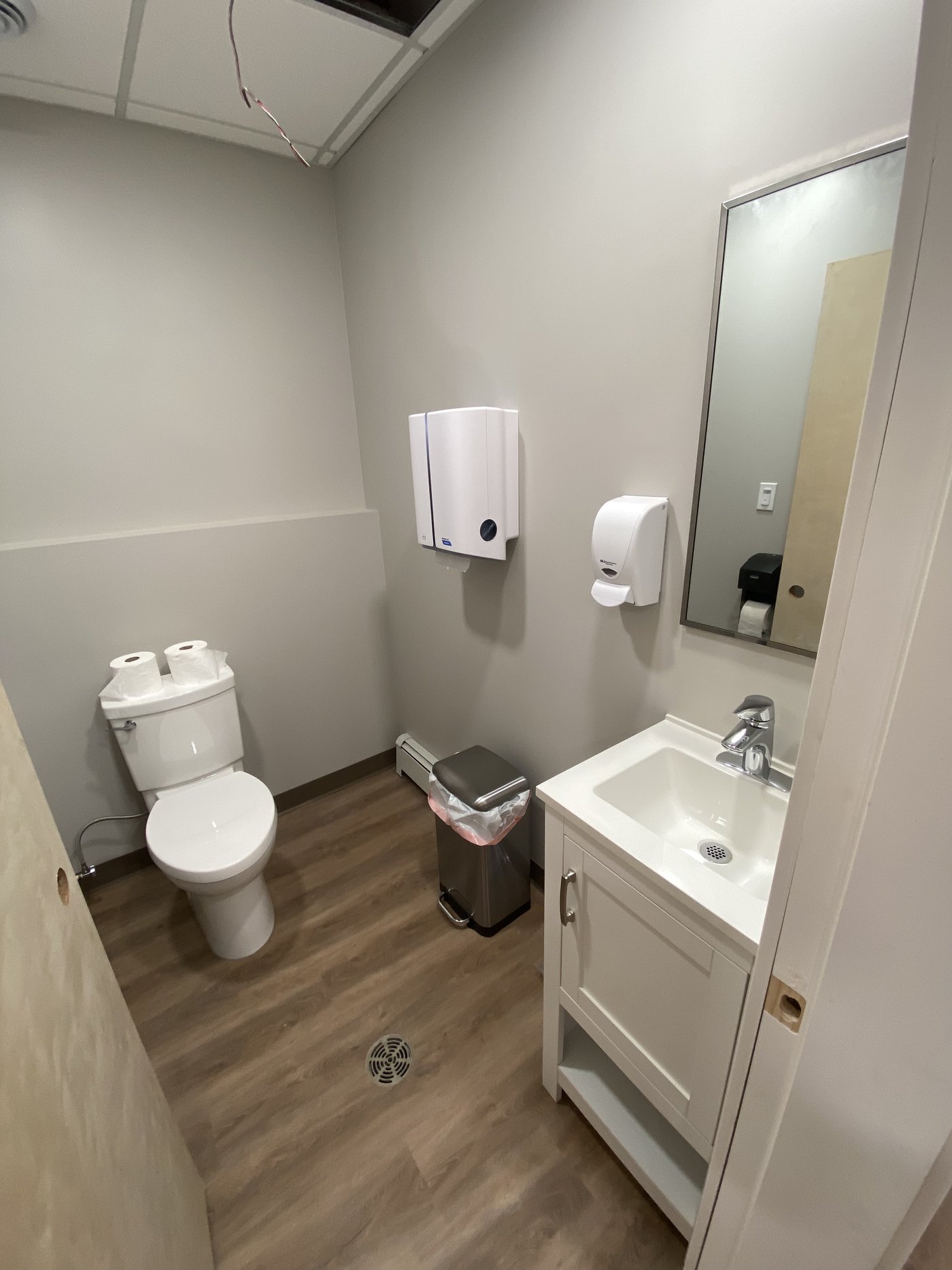 All of the doors have been hung and are ready to be stained.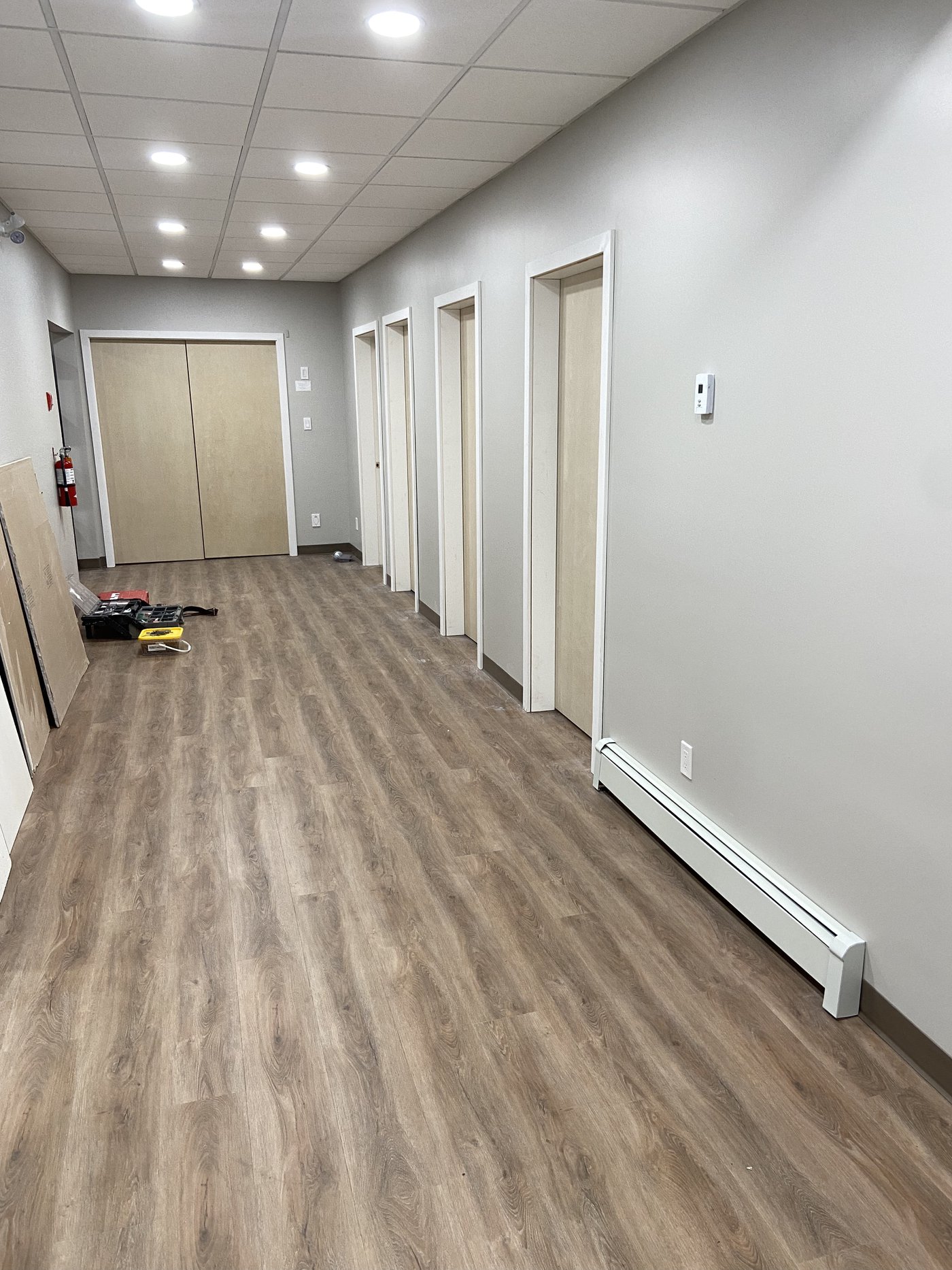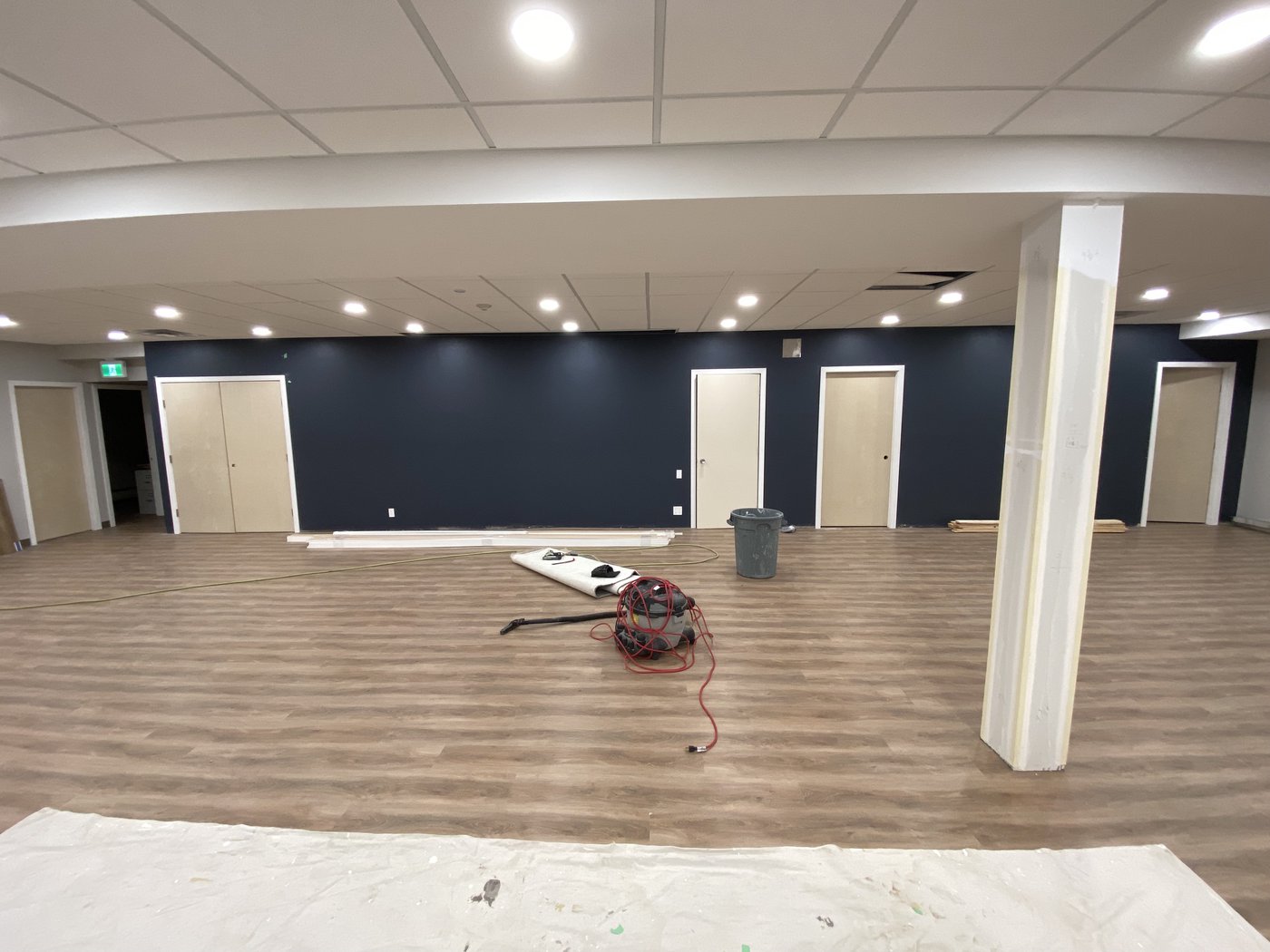 Our cabinets on the back wall are being installed. We're just waiting on our counter tops to finish that off. It will be extremely helpful to have this dedicated space for coffee and tea during our get-togethers in the future!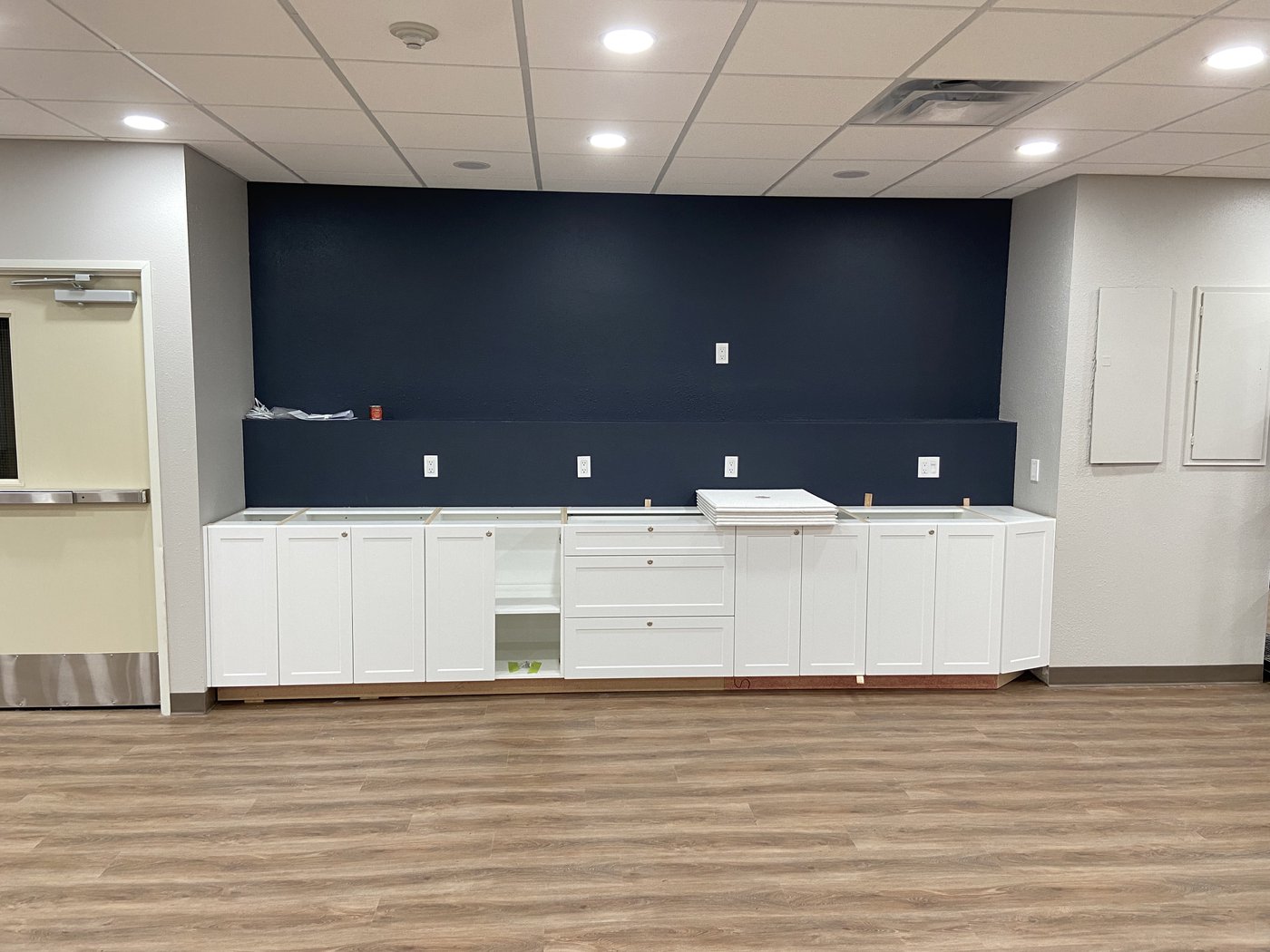 This corner cabinet will serve as a small sound booth for the sound system and projector that we hope to install soon: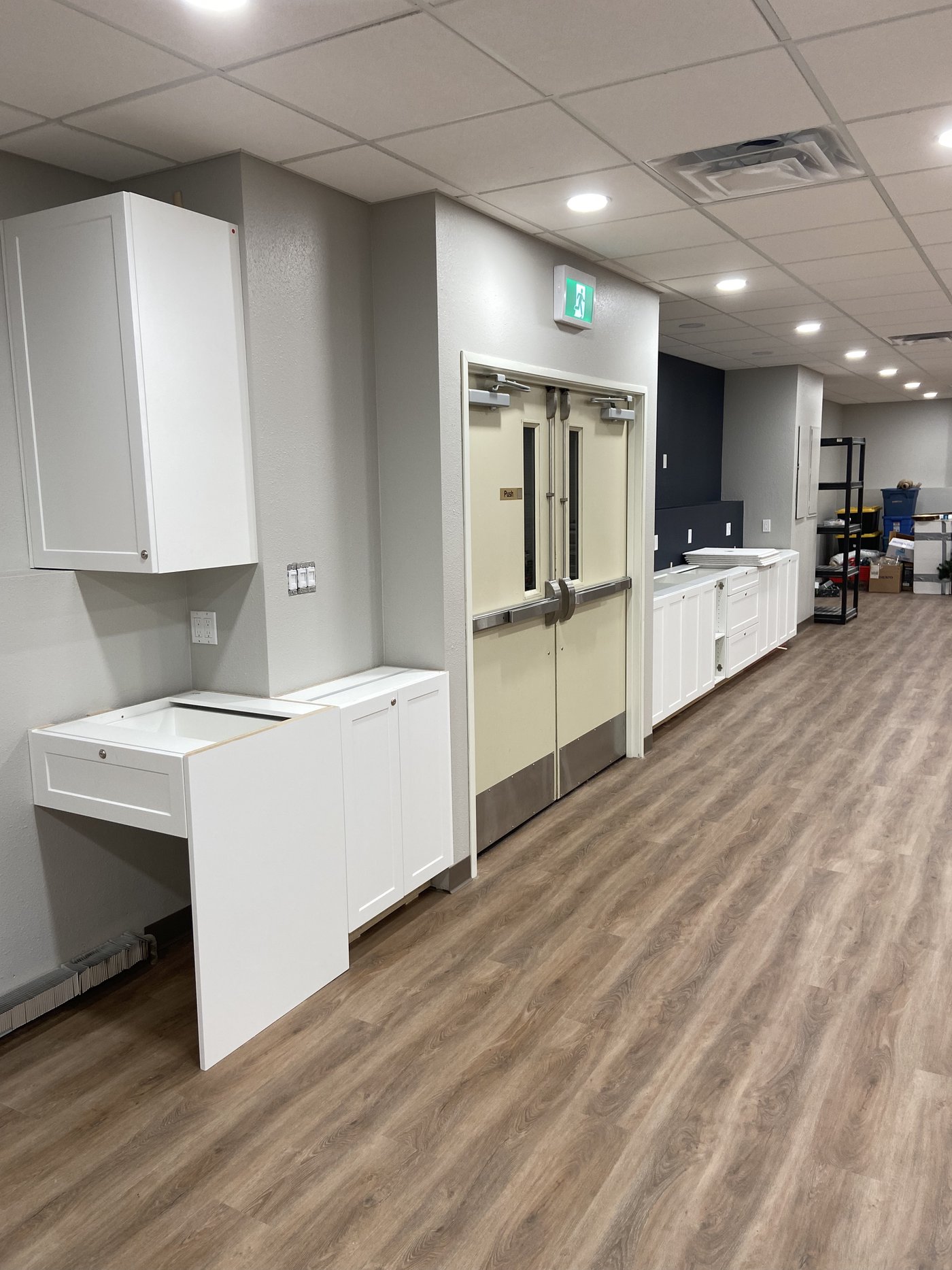 Our basement project has been moving a little bit slower for the last few weeks. We're currently waiting on doors and cabinets, so until those things come in there won't be much of anything to take pictures of. But we will post pictures as soon as we can to show you the updates!
This was an exciting week of changes. Our flooring was installed and it looks fabulous! This made one of the biggest changes in appearance for sure! It's vinyl plank, which has been glued down. It's completely water proof and it's easy to remove and replace a piece if damage occurs. This will be much better for dealing with spills that seem to be inevitable!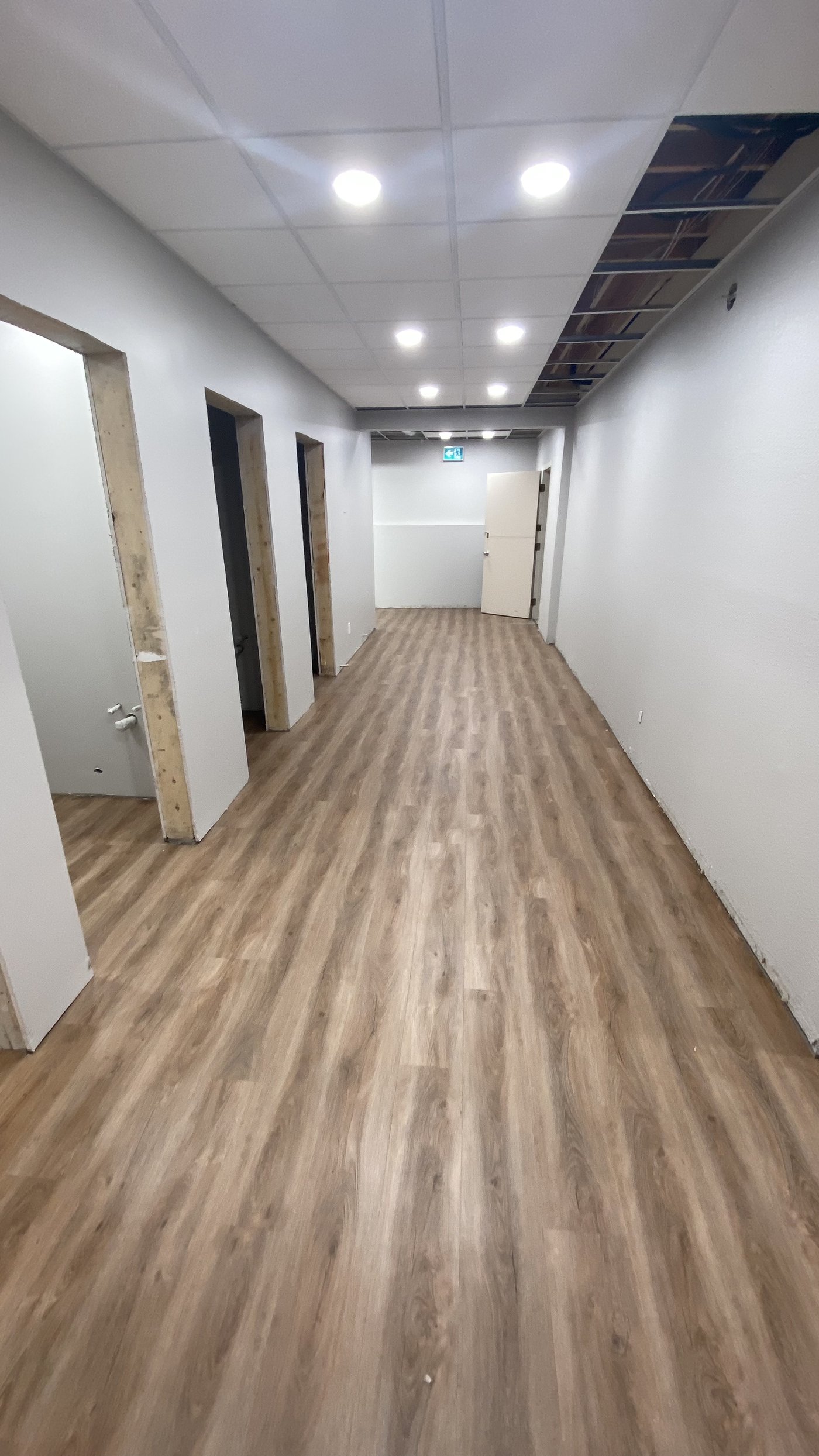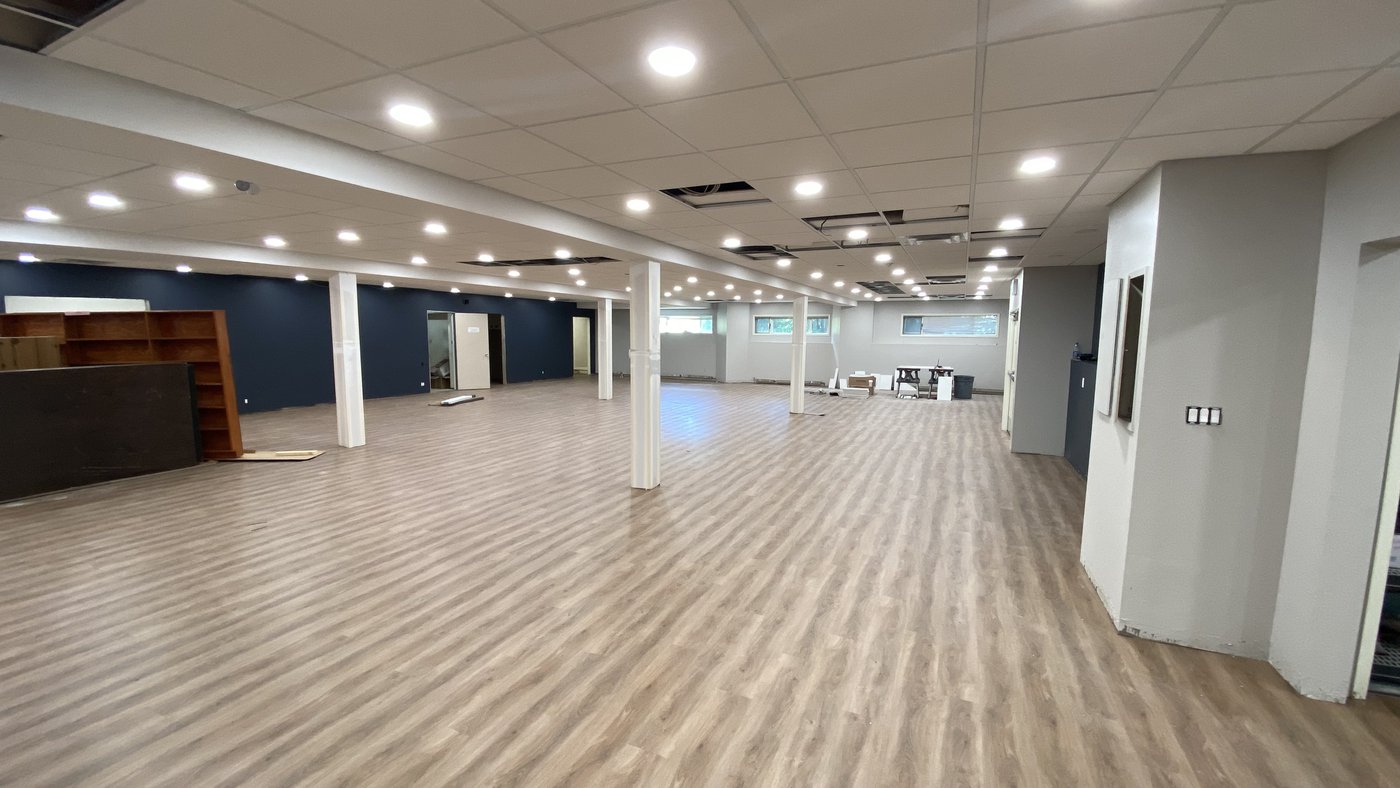 The floor colour goes with our doors nicely: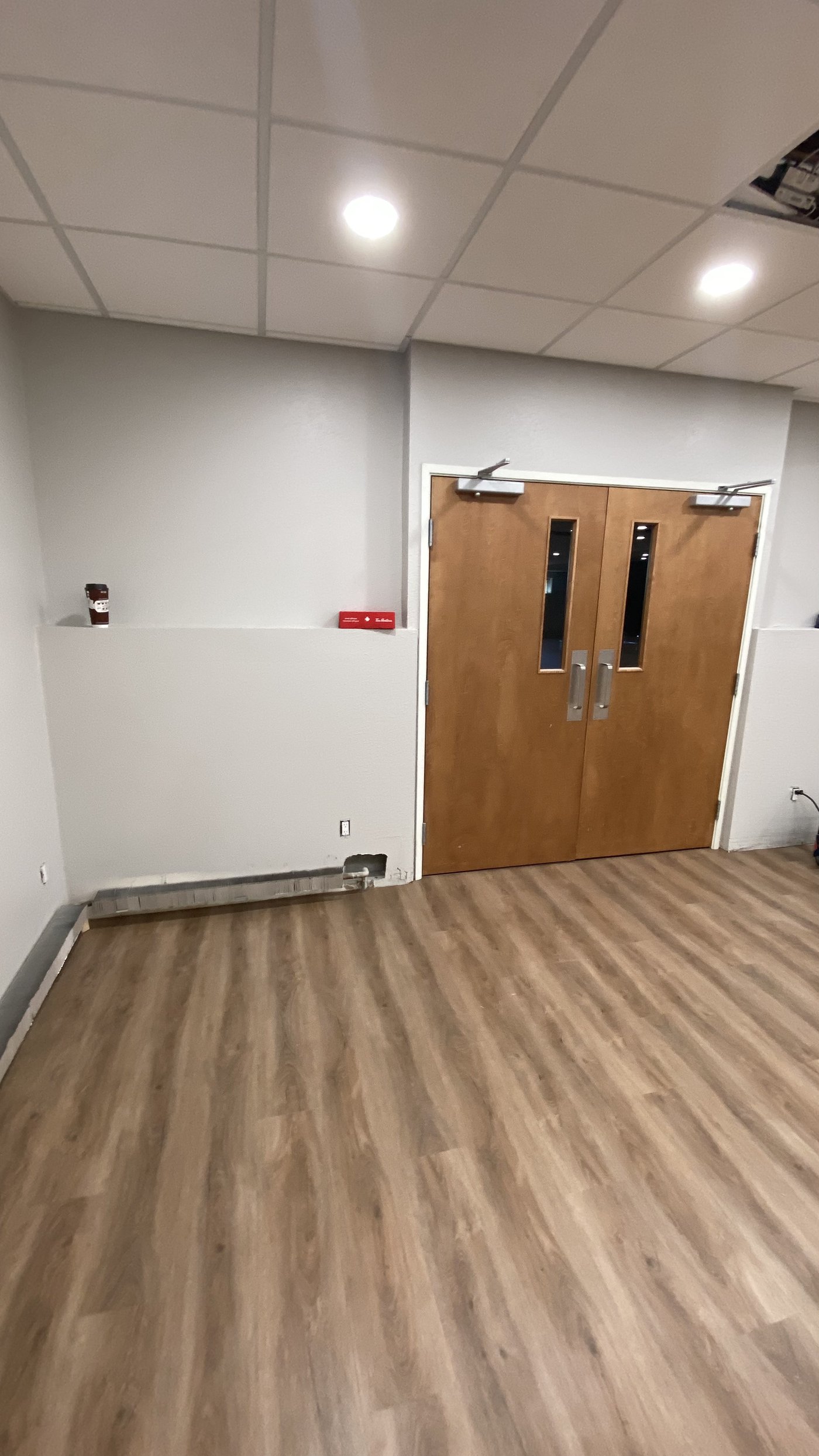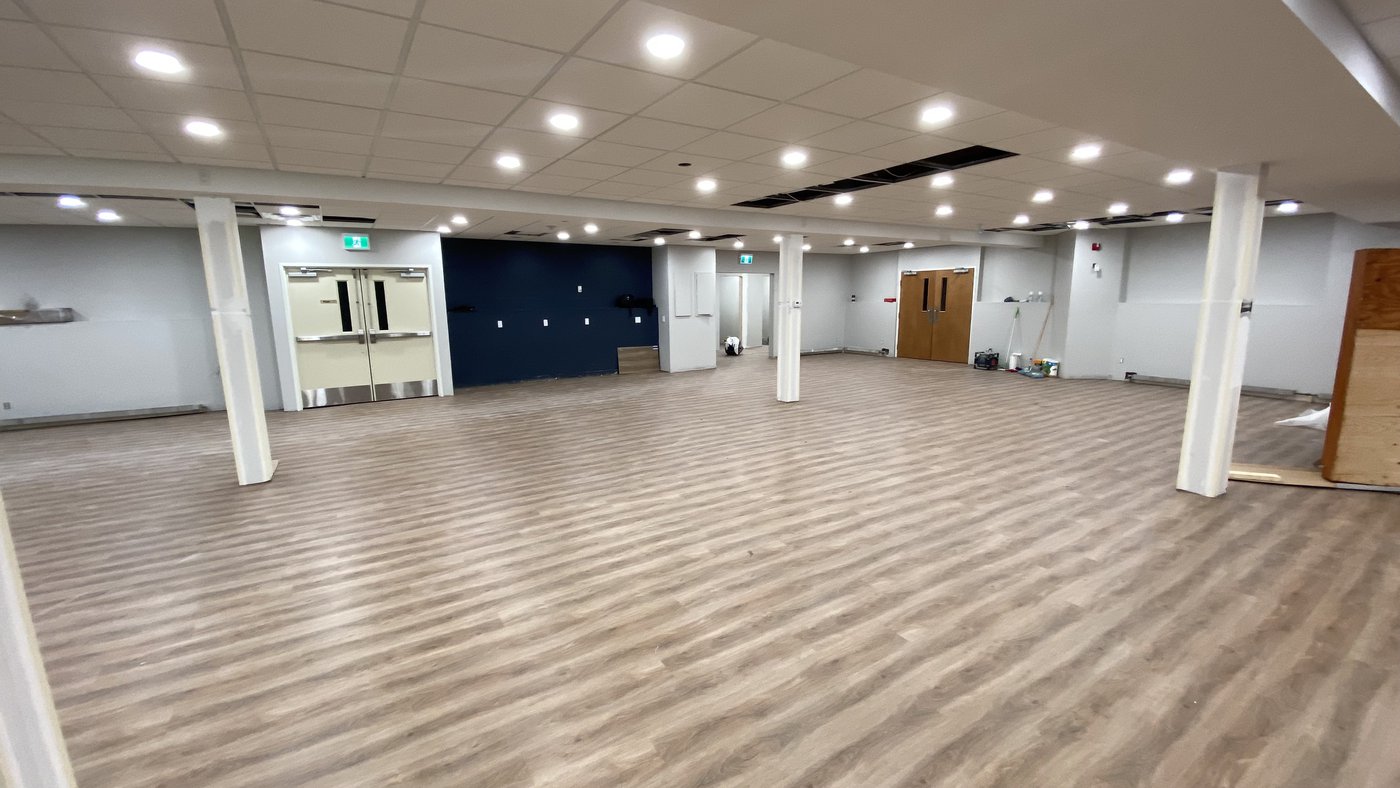 No transition strips to deal with, just one seamless floor!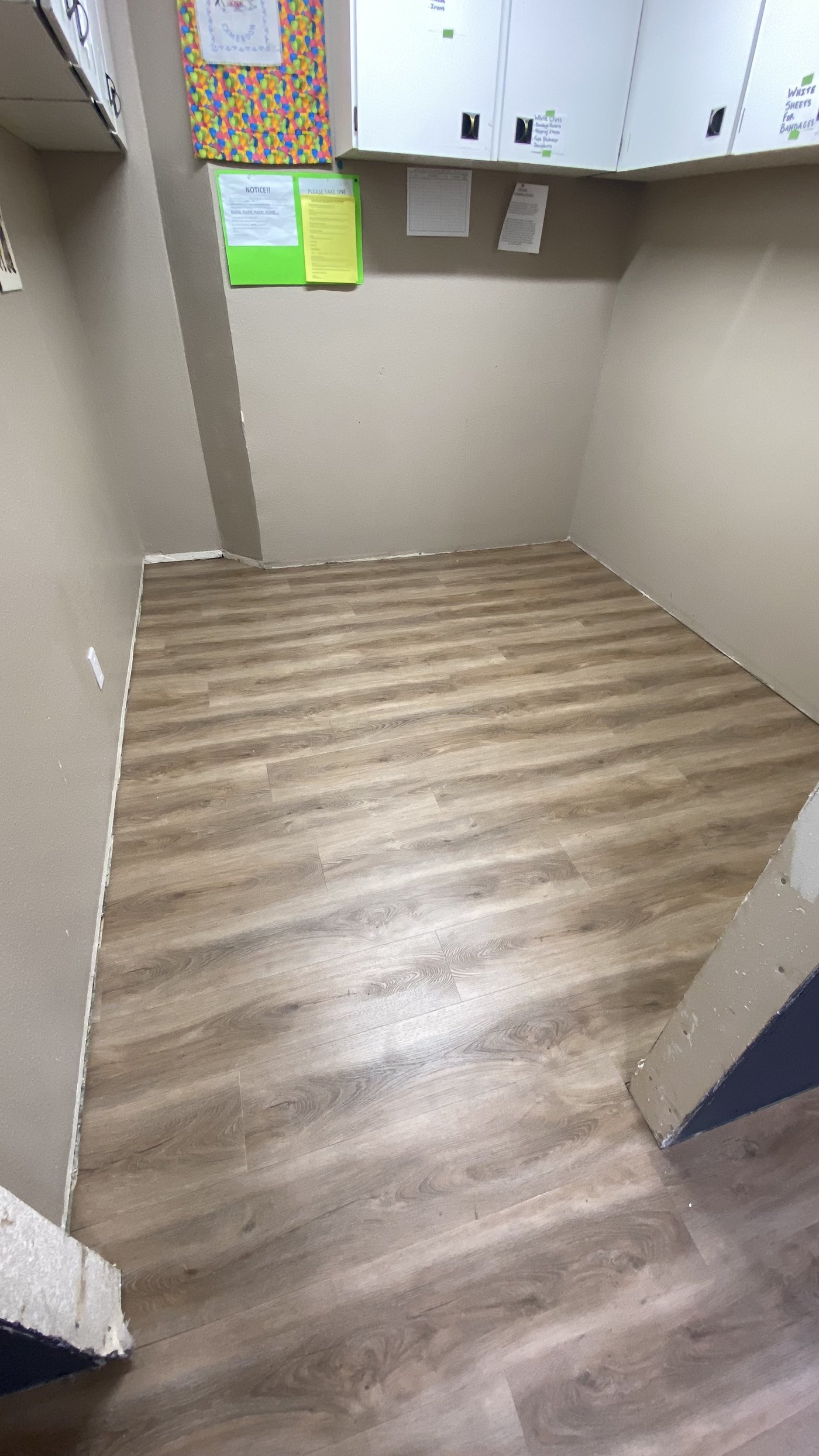 This was PAINTING WEEK!! So exciting to see these changes!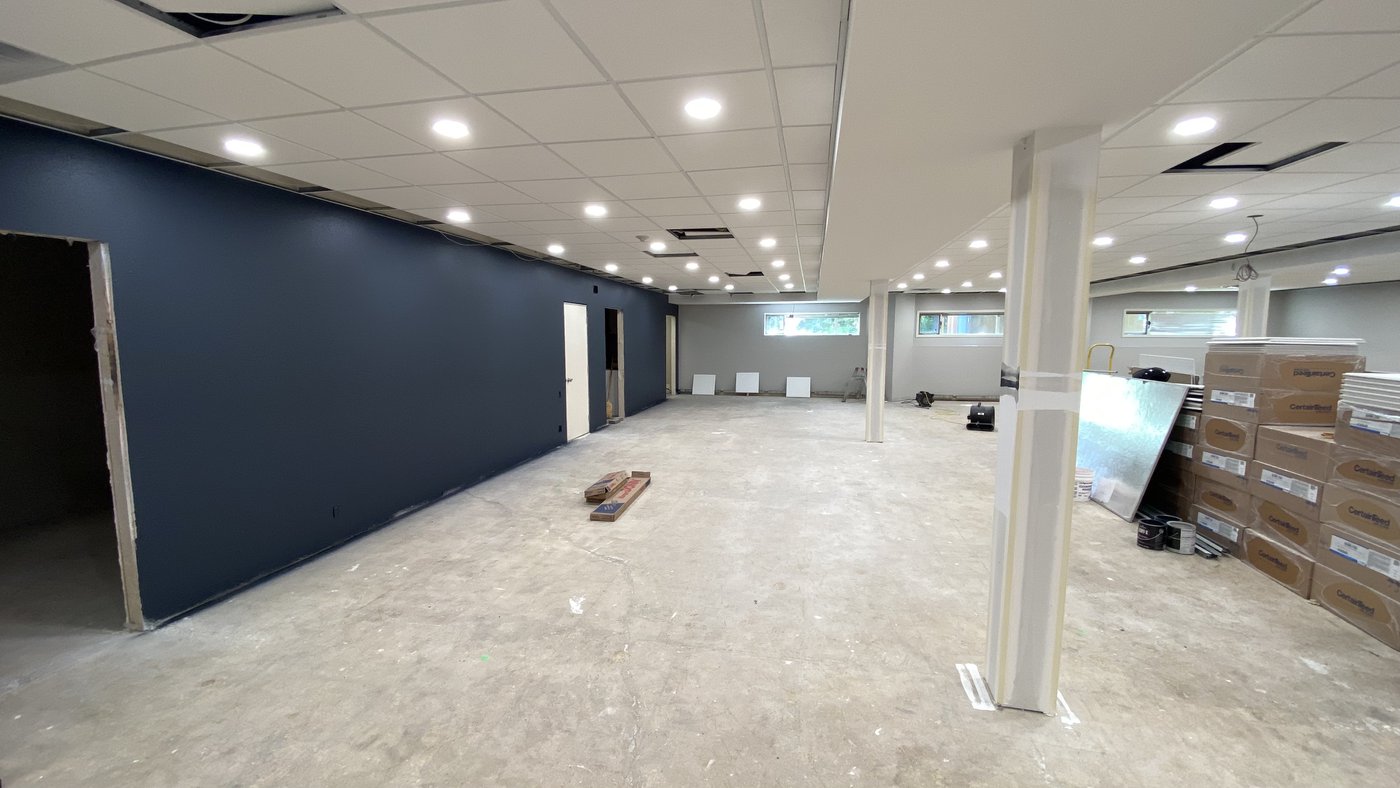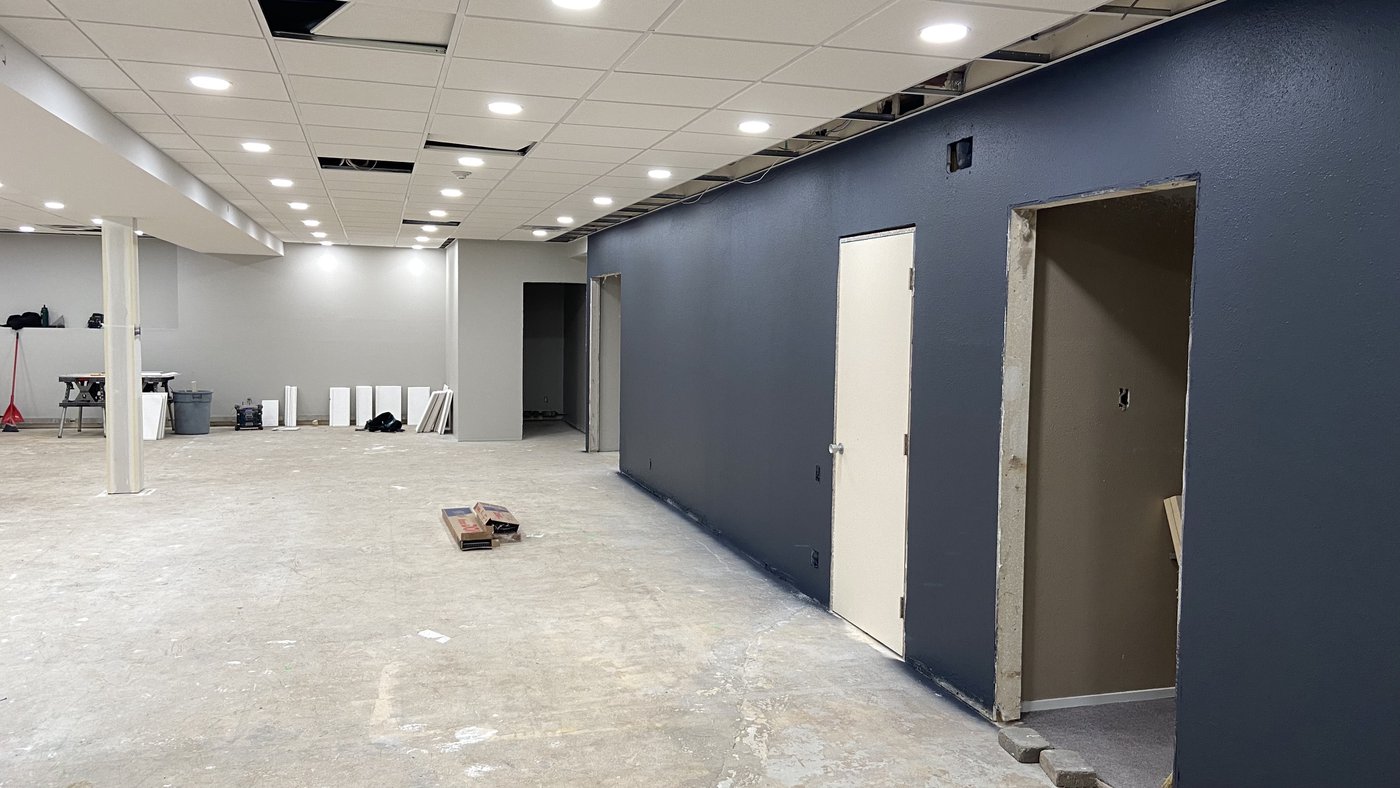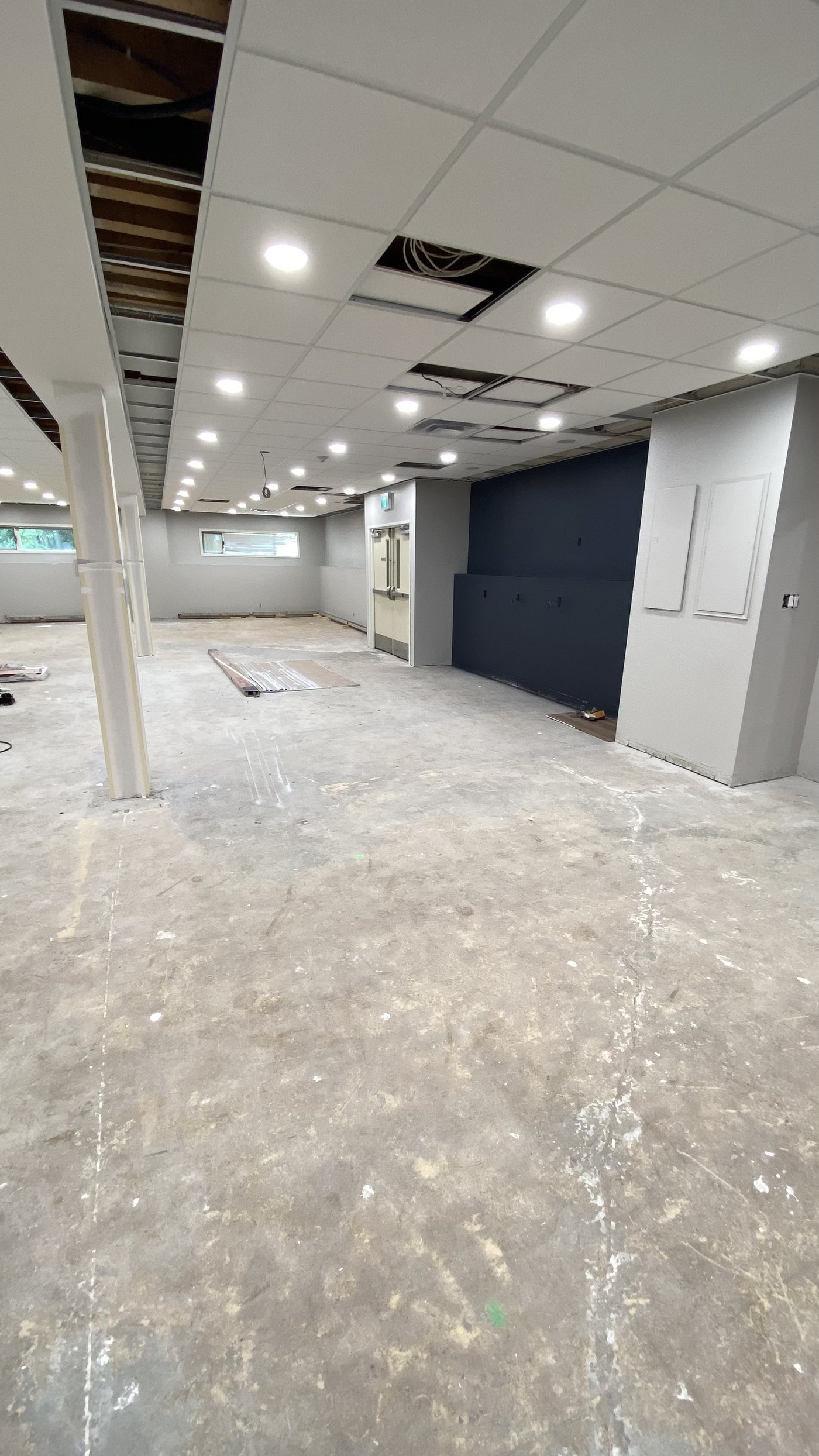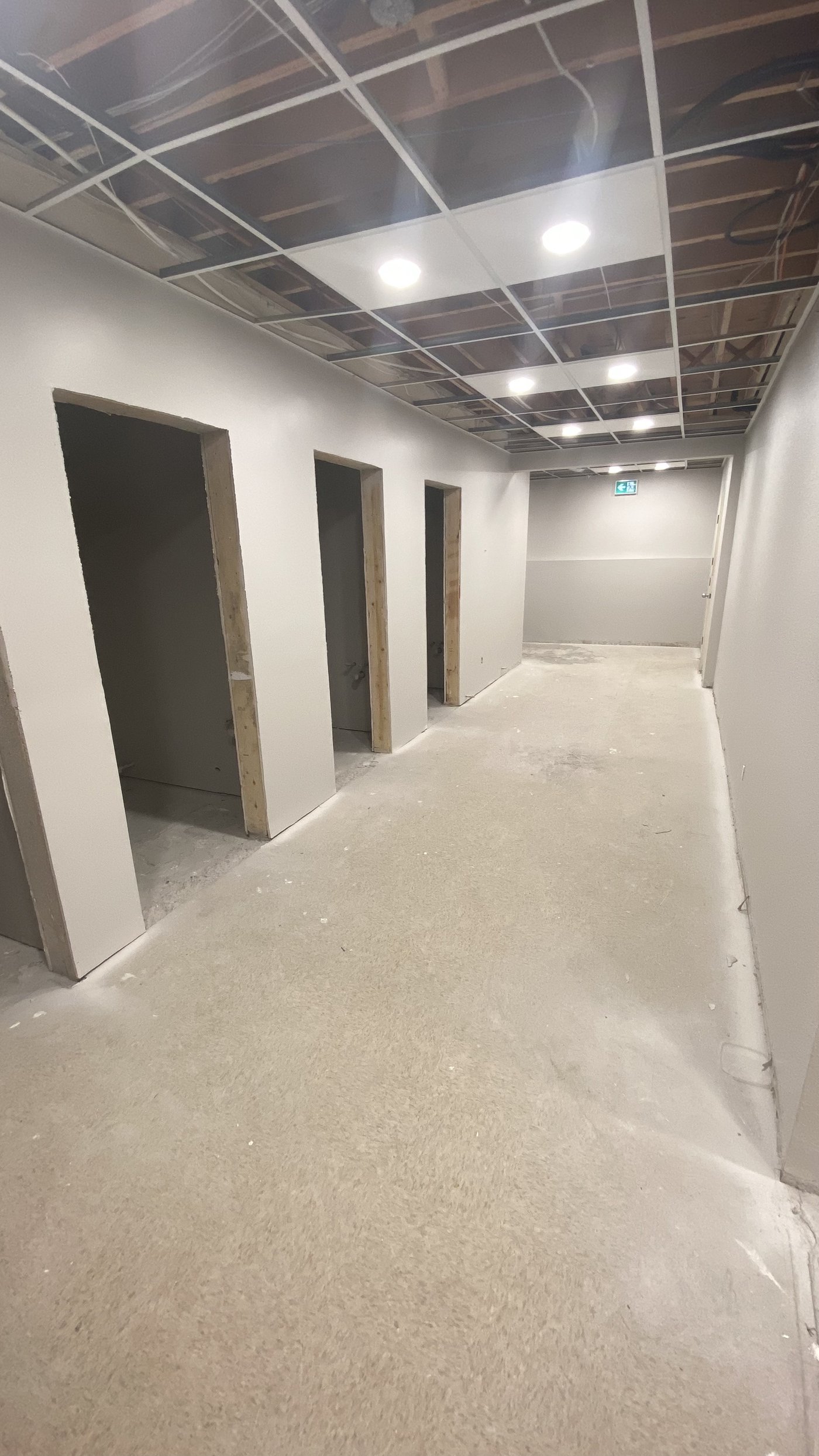 This week we got prepped for painting! The ceiling is masked off and the walls have been primed where needed. Next week we could see some more significant changes when the paint goes on!
Also, I had a lovely assistant to help me show the changes this week!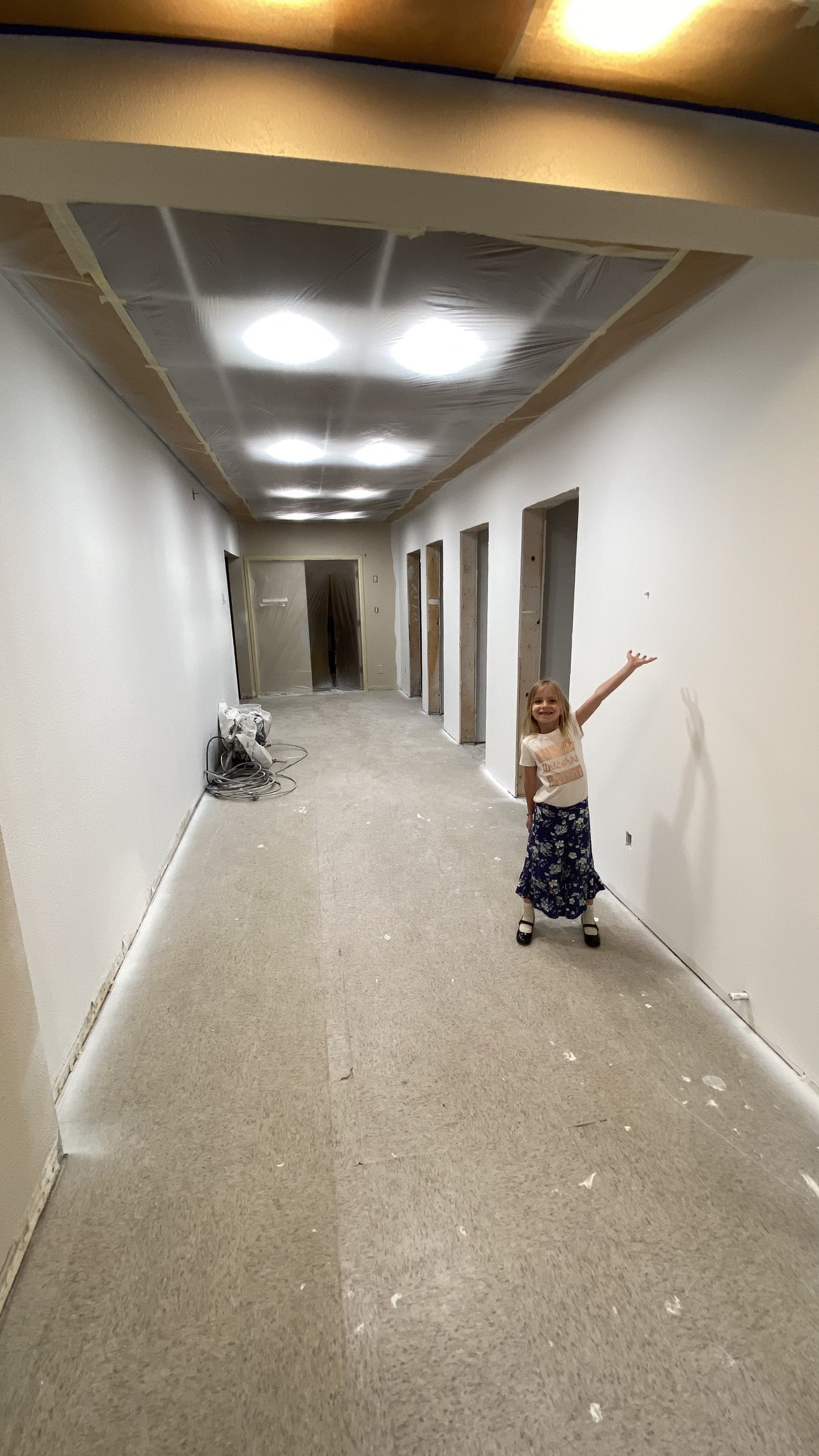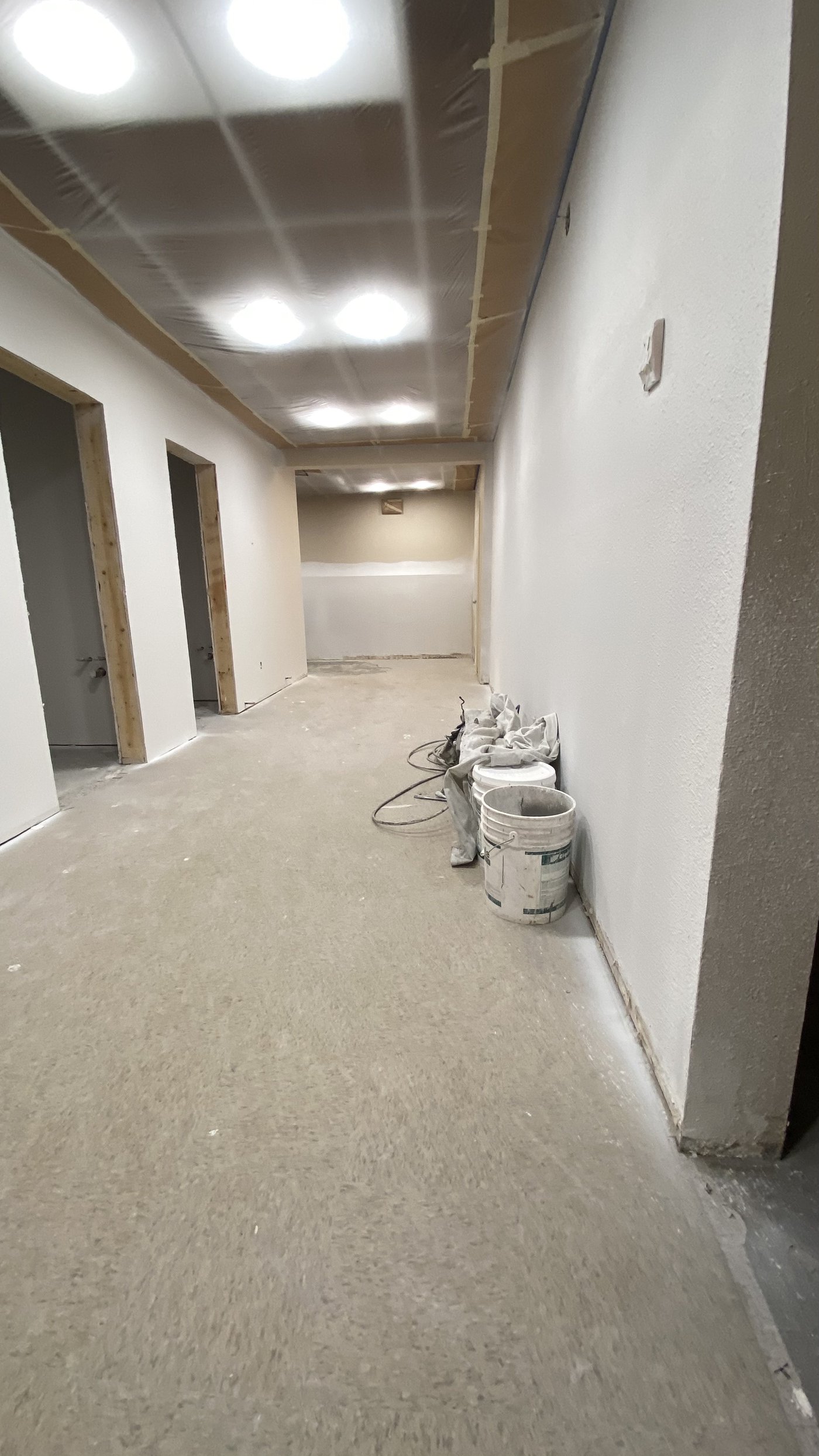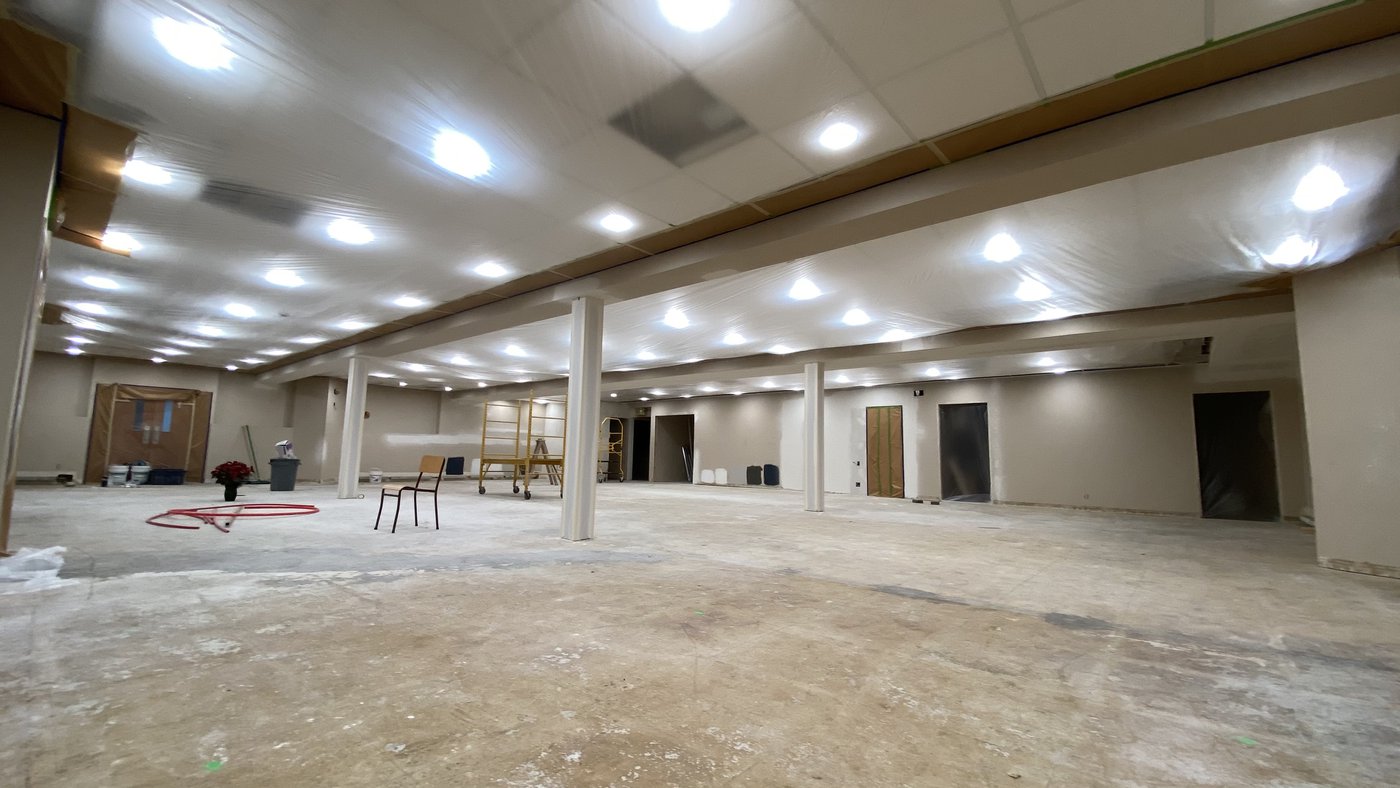 More steps in the right direction this week! Drywall mudding and sanding. Lots of dust but it's looking great!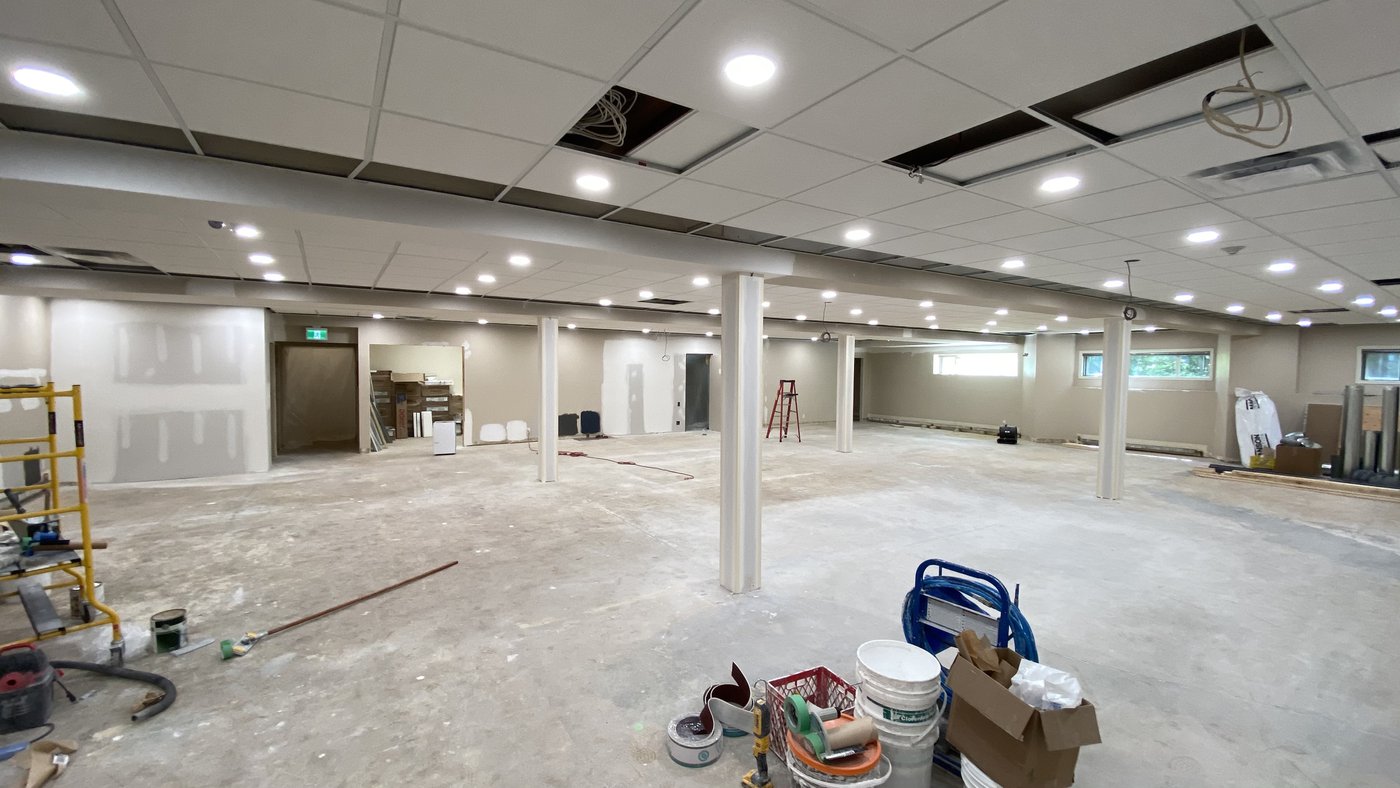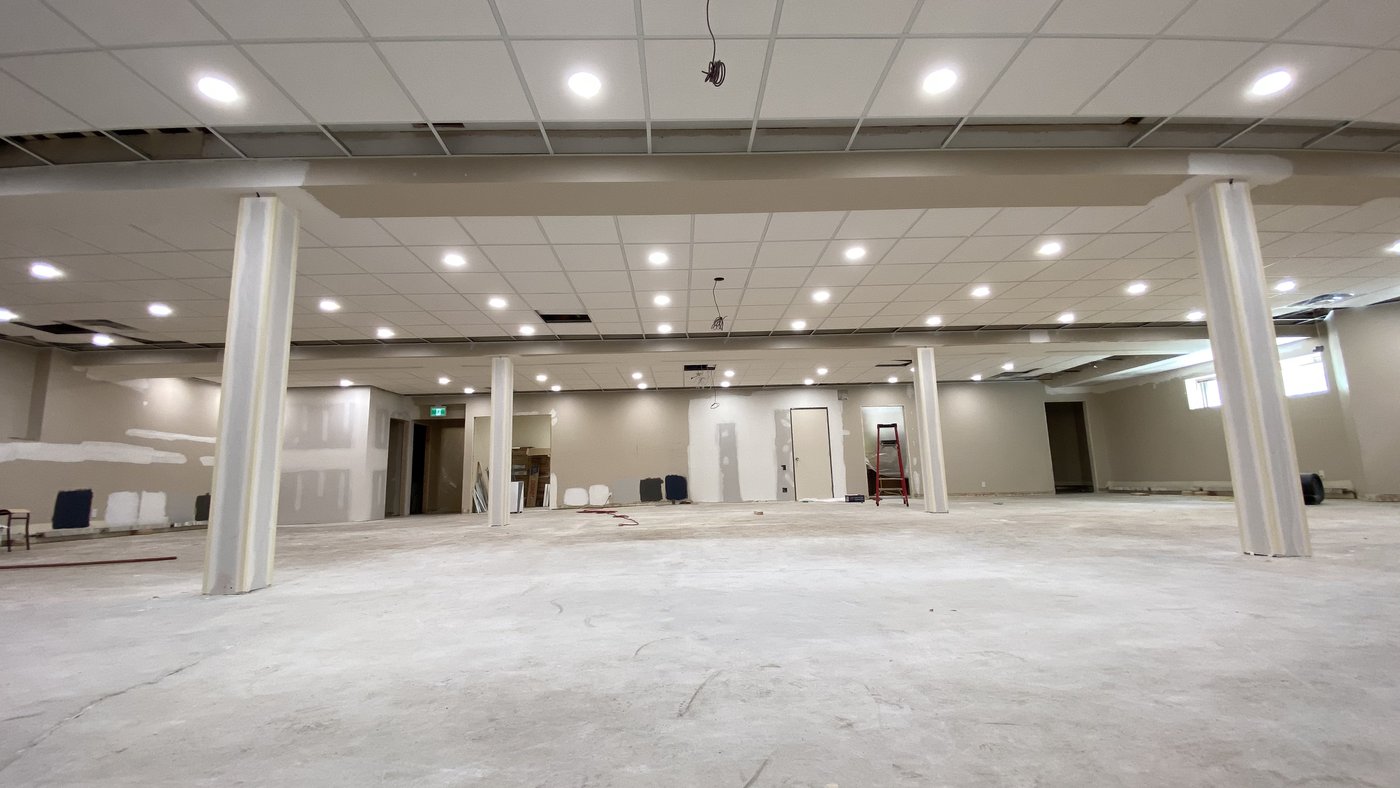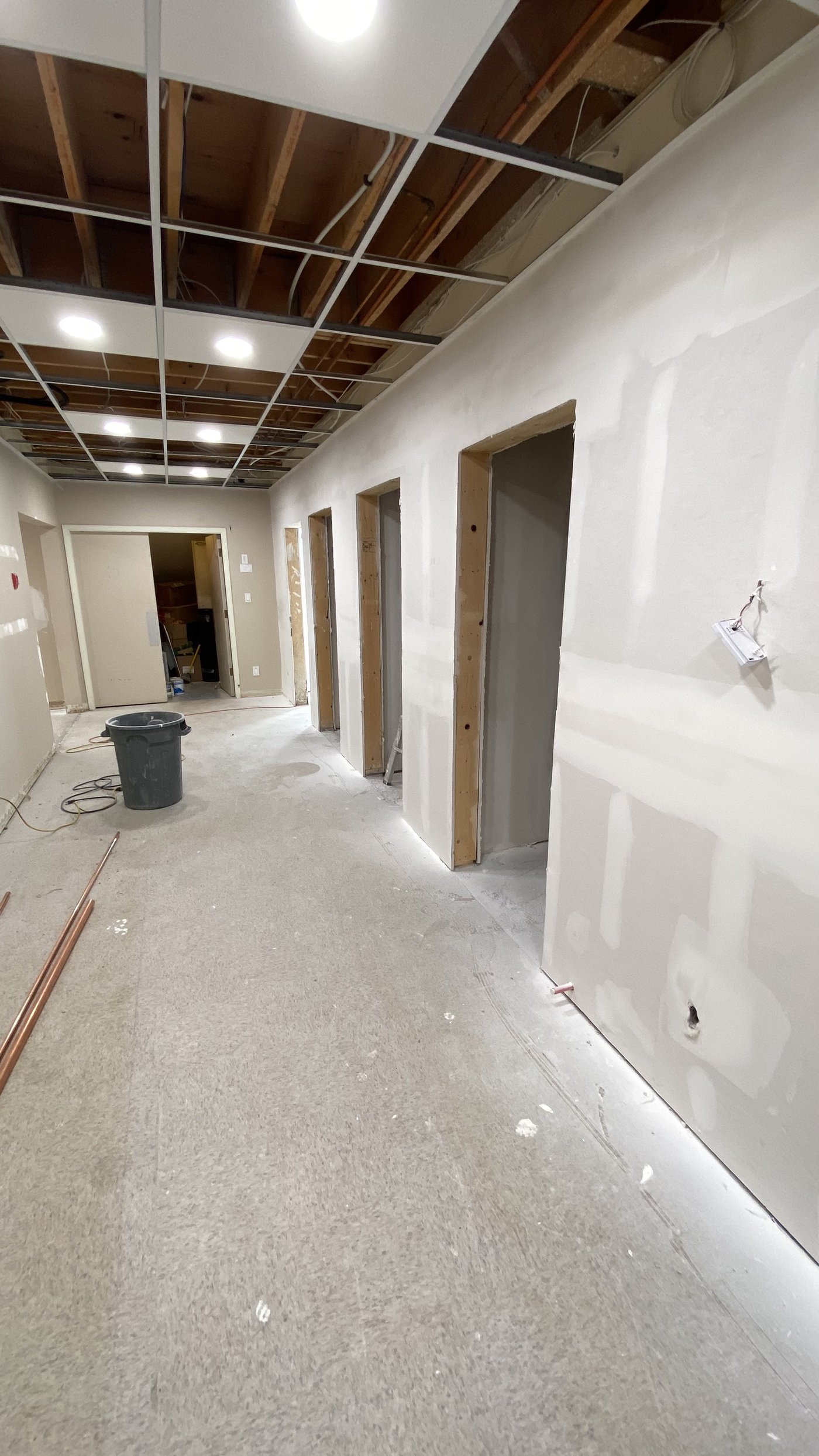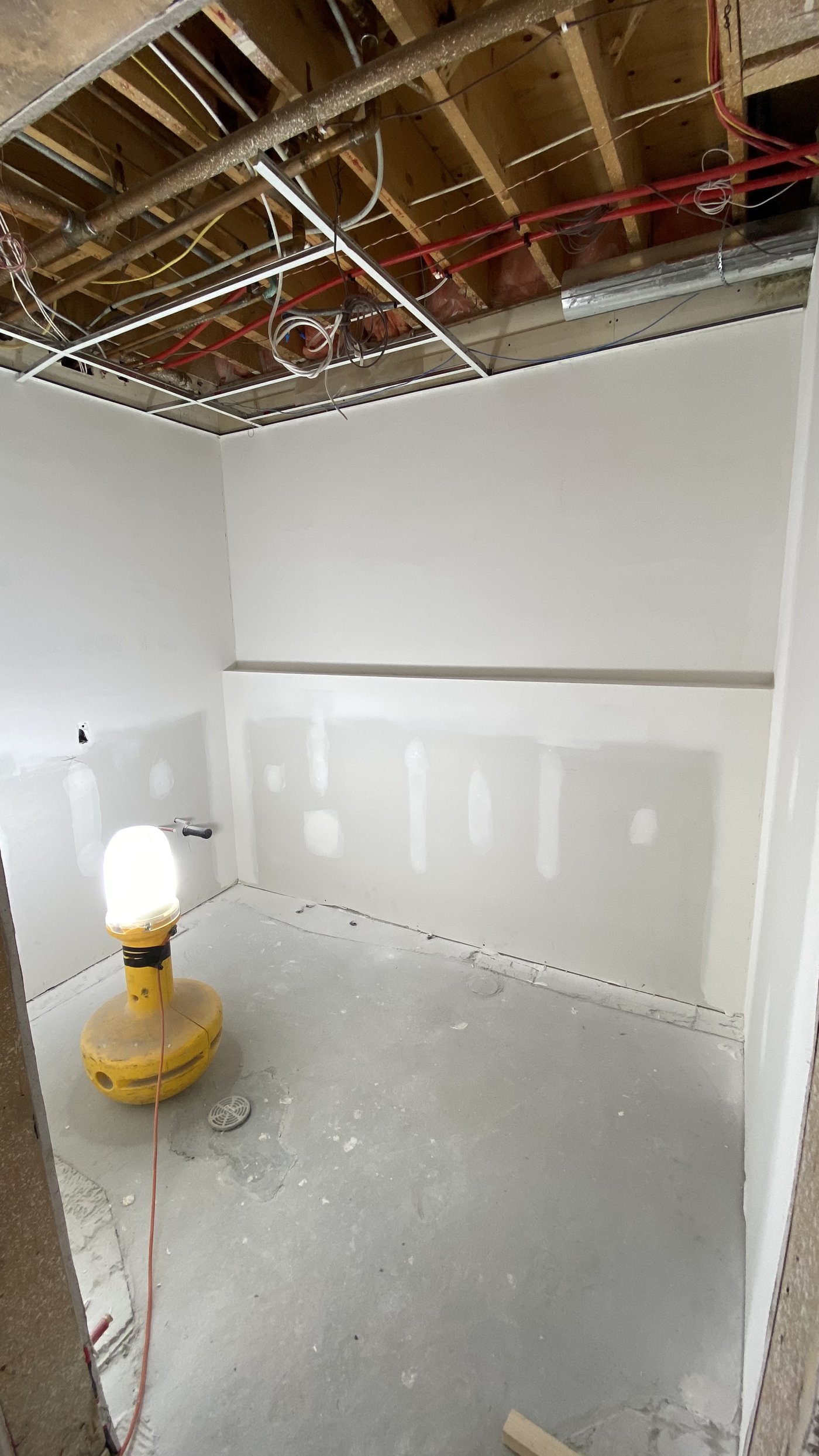 More changes as things continue to take shape in our basement! This week was drywall week which is fun because it really helps the visual!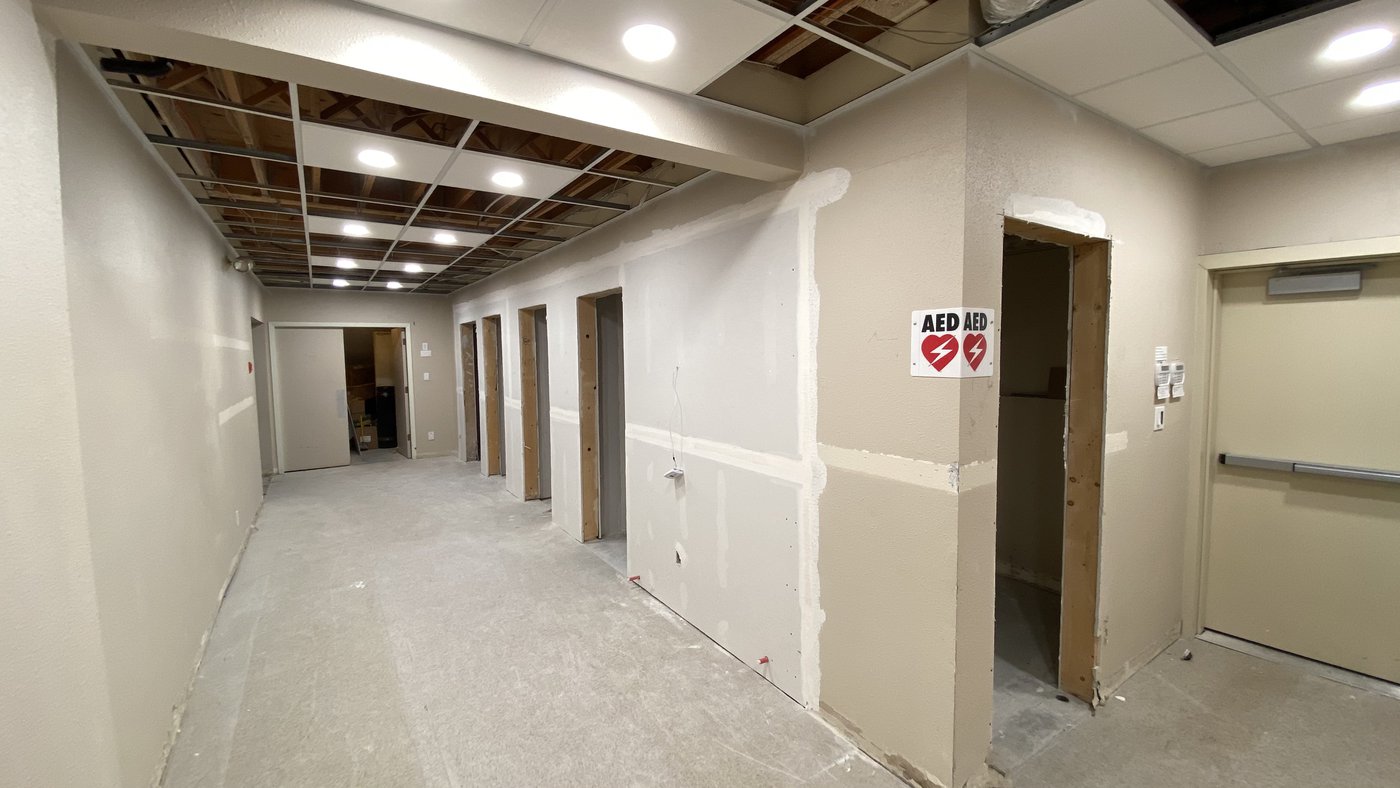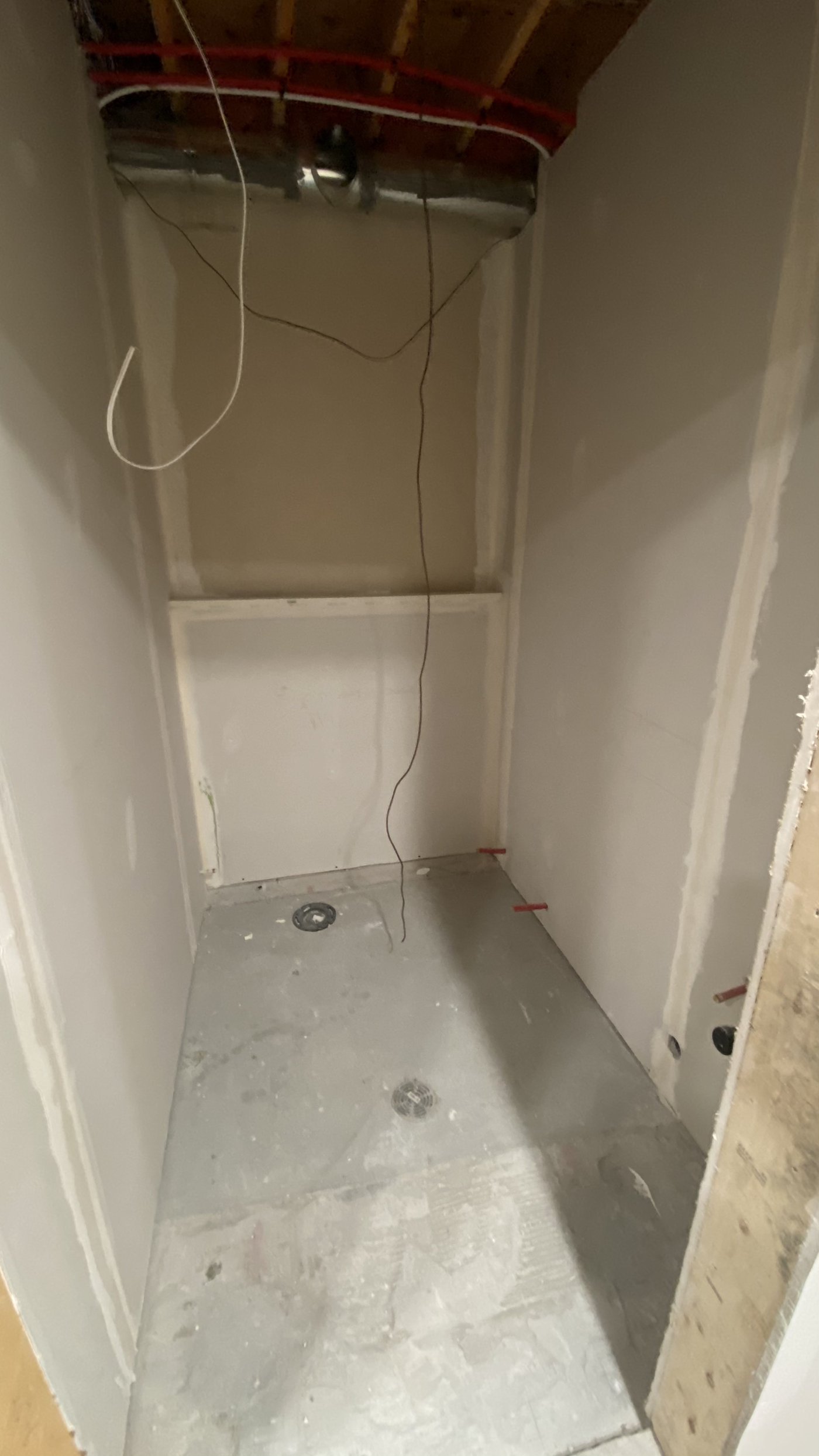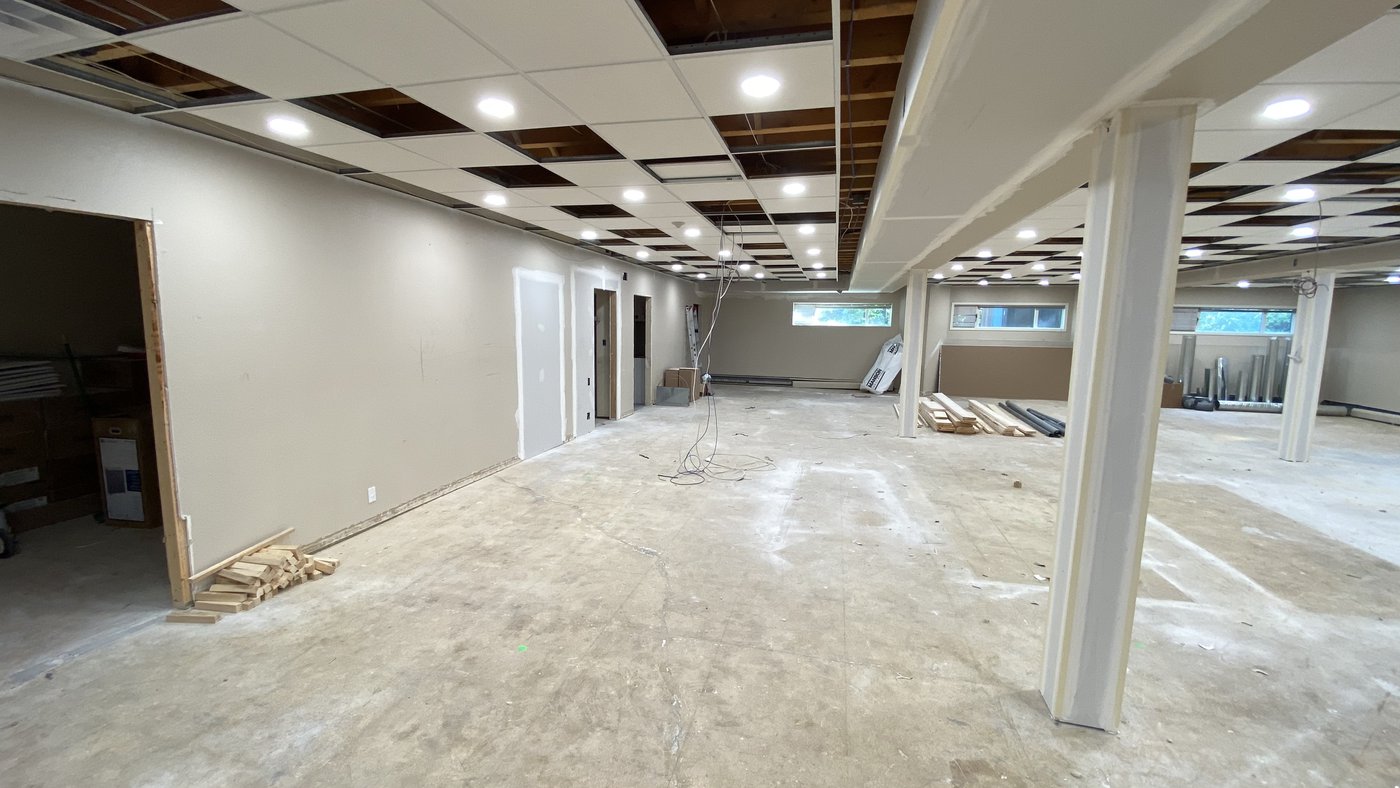 Here is a small storage room that we've created in the corner of the main room to help with our storage deficit. (Also of note: our Exit signs have been brought up to date. Small changes but they are cumulative.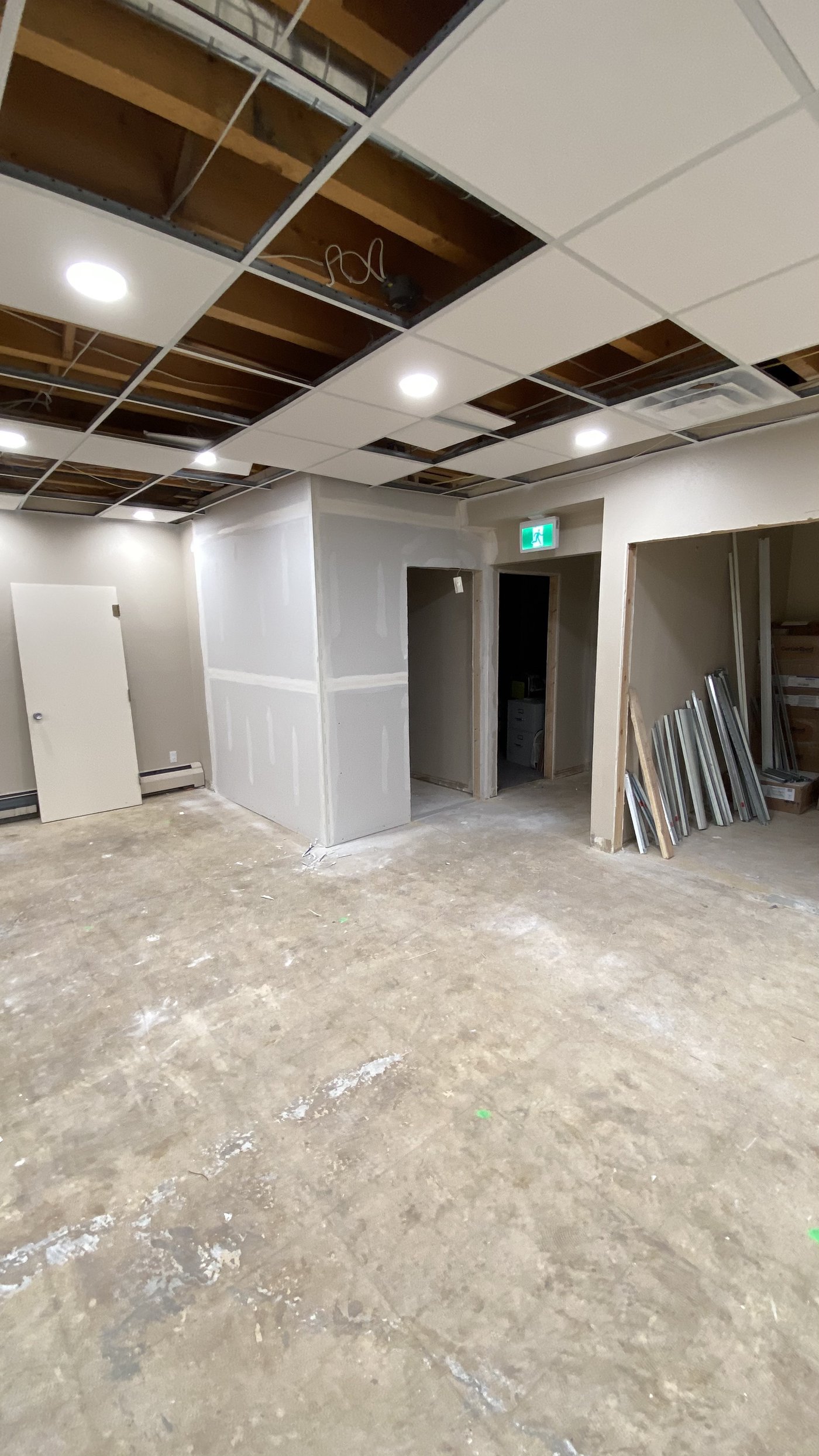 Our HRV unit has all of the ducting connected (I think). It won't be long now before we can exclaim, "It's ALIVE!!!!"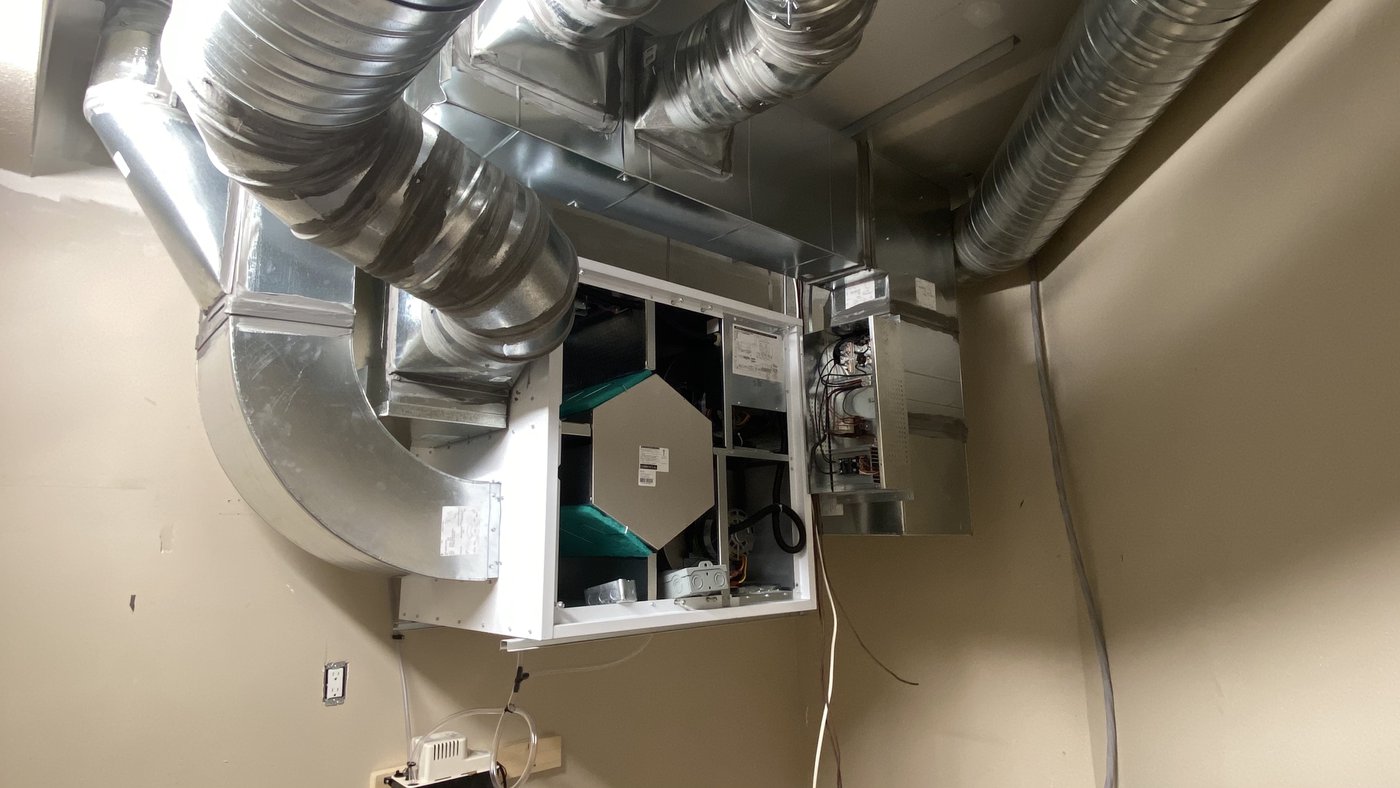 Our HRV unit is mostly installed and the ducting should be finished next week. Most of our lighting is installed and it's looking great!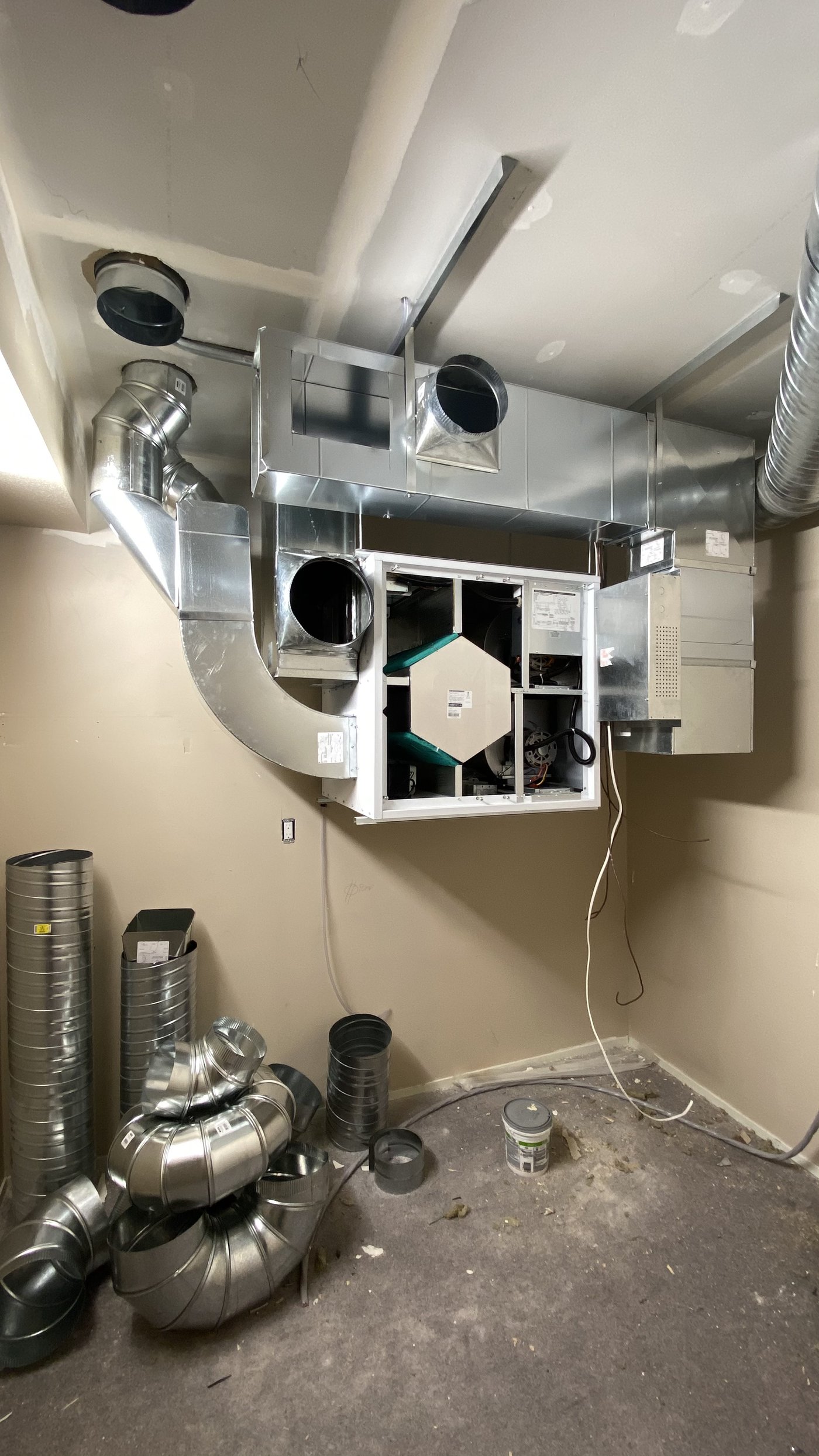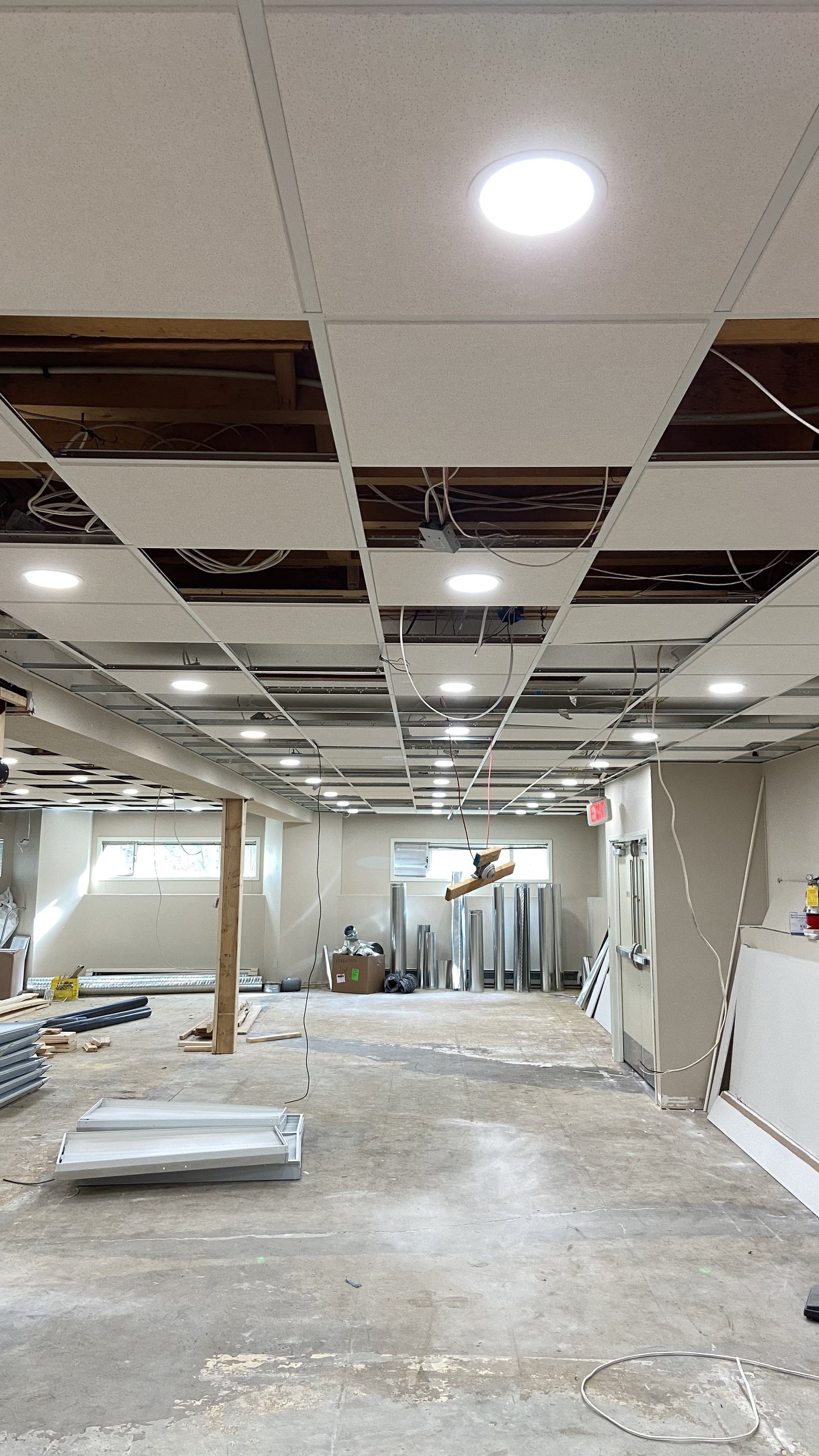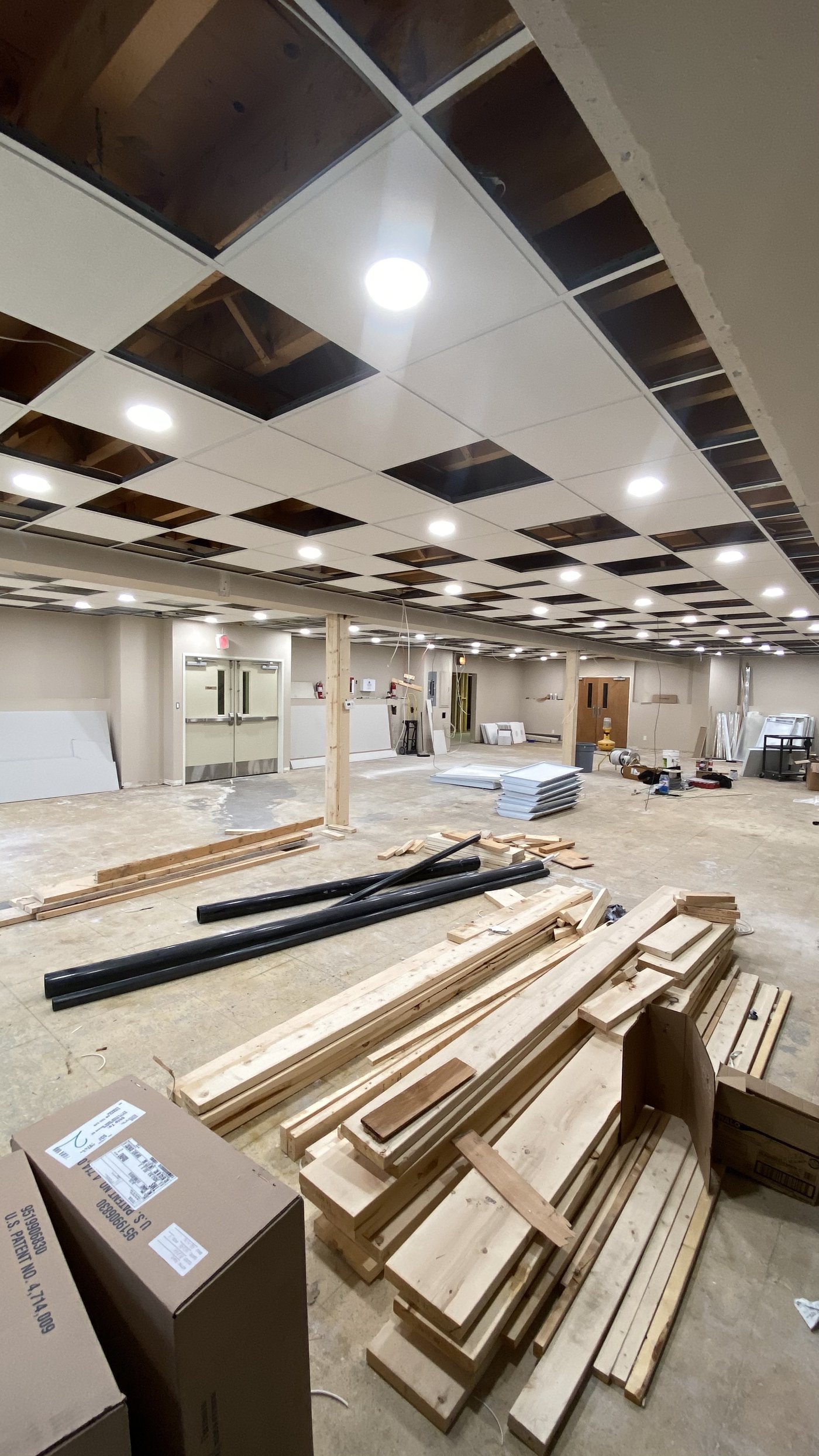 Our ceiling grid is changed and 1/2 of the tiles have been put in. This will allow the electrical and duct work to be installed easily in that space.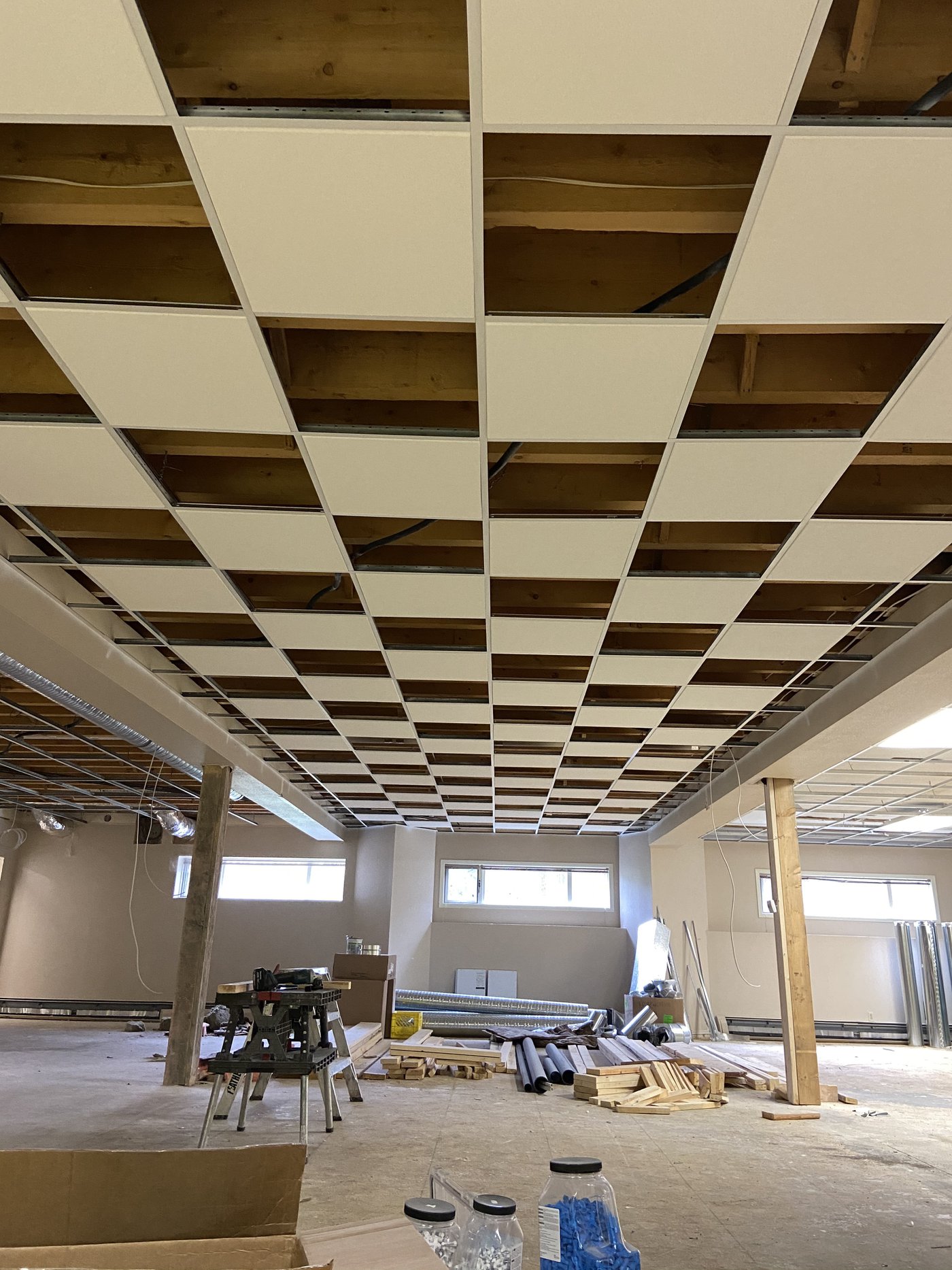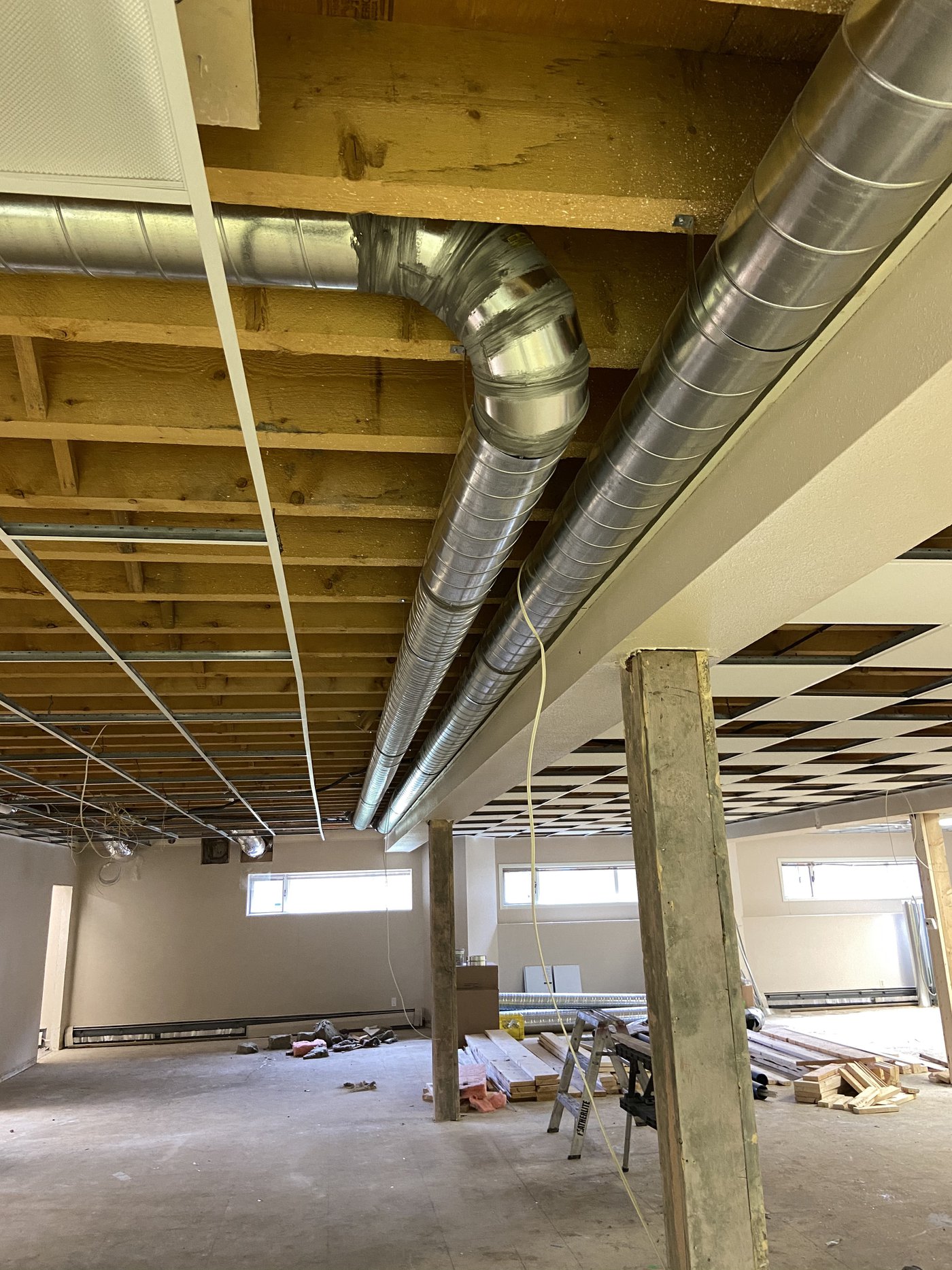 Our contractor (Ryan) has been busy! He cut out holes for our HRV system to bring in fresh air and push out exhaust air. Watching that coring machine at work was very impressive!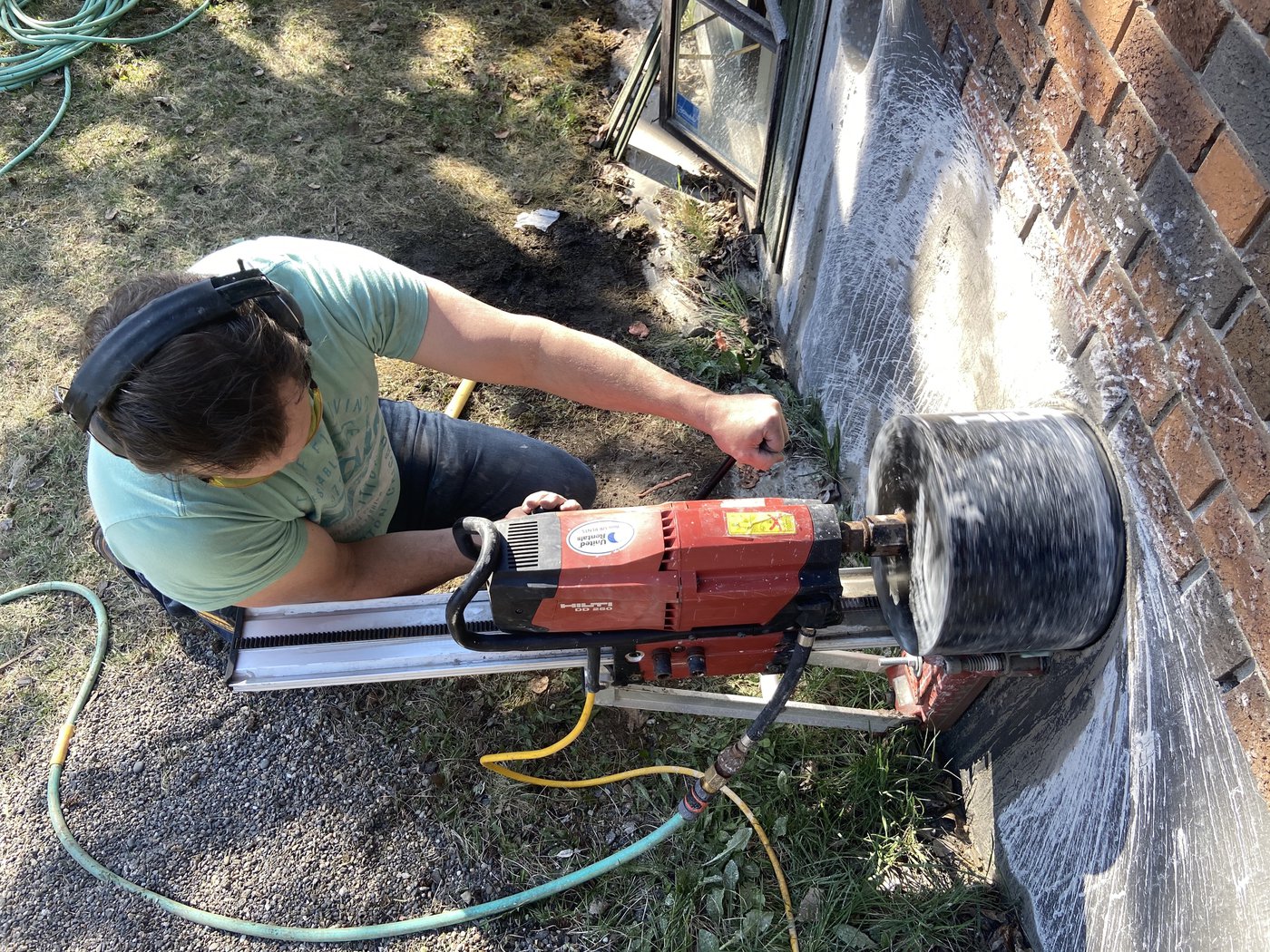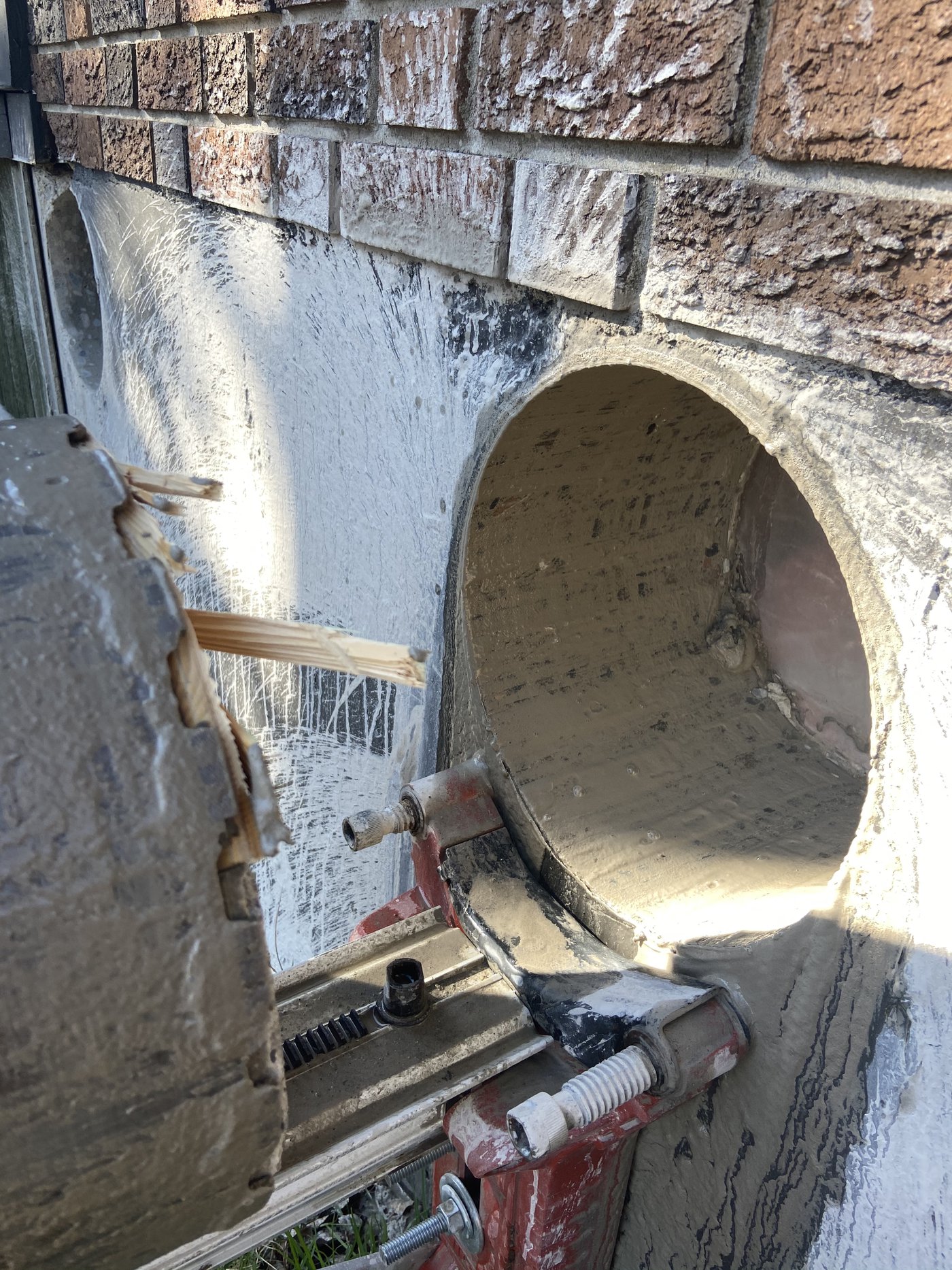 The bathroom door openings are all framed in and there will be a small storage/mechanical room at the end of the hall as well: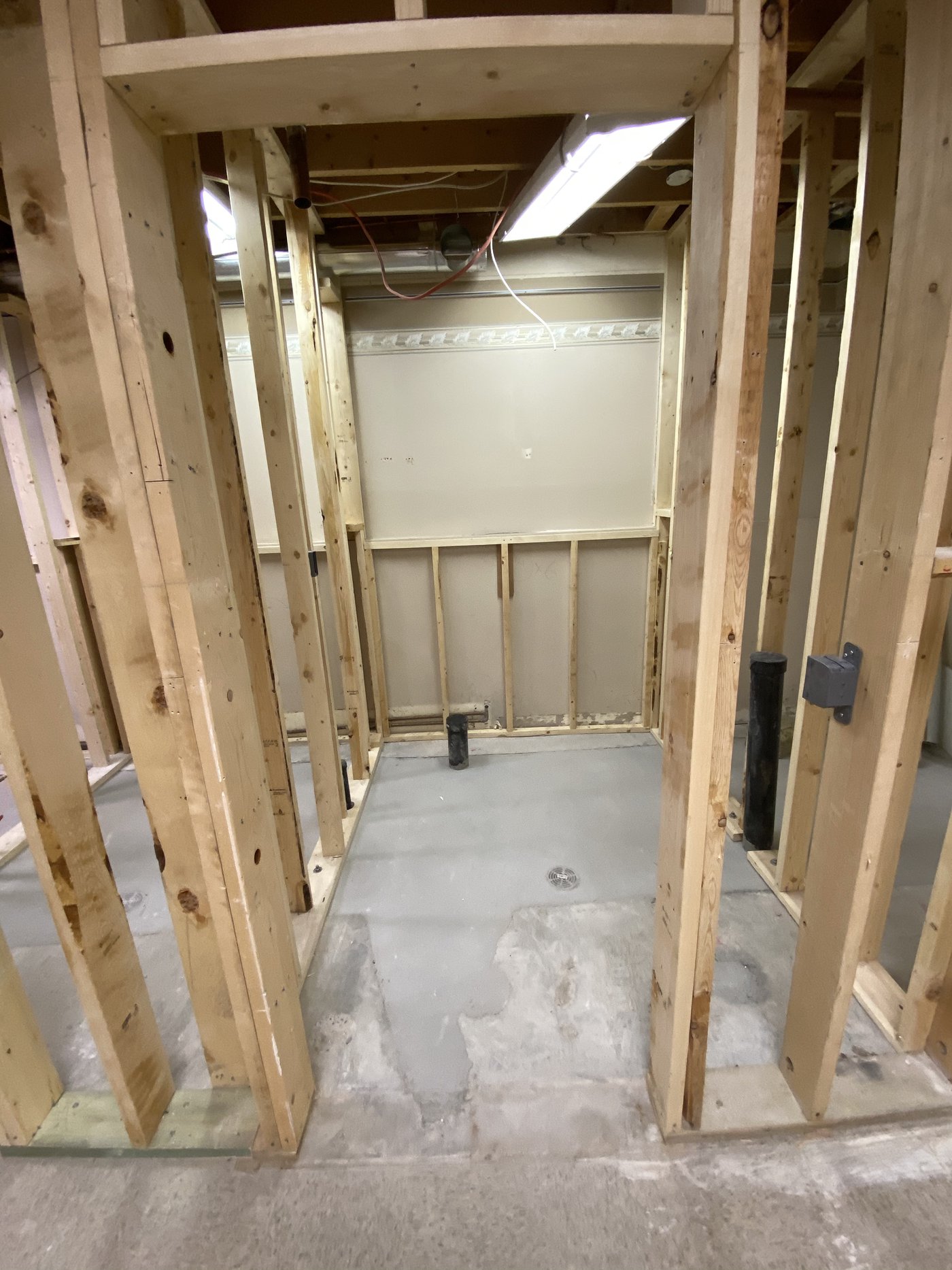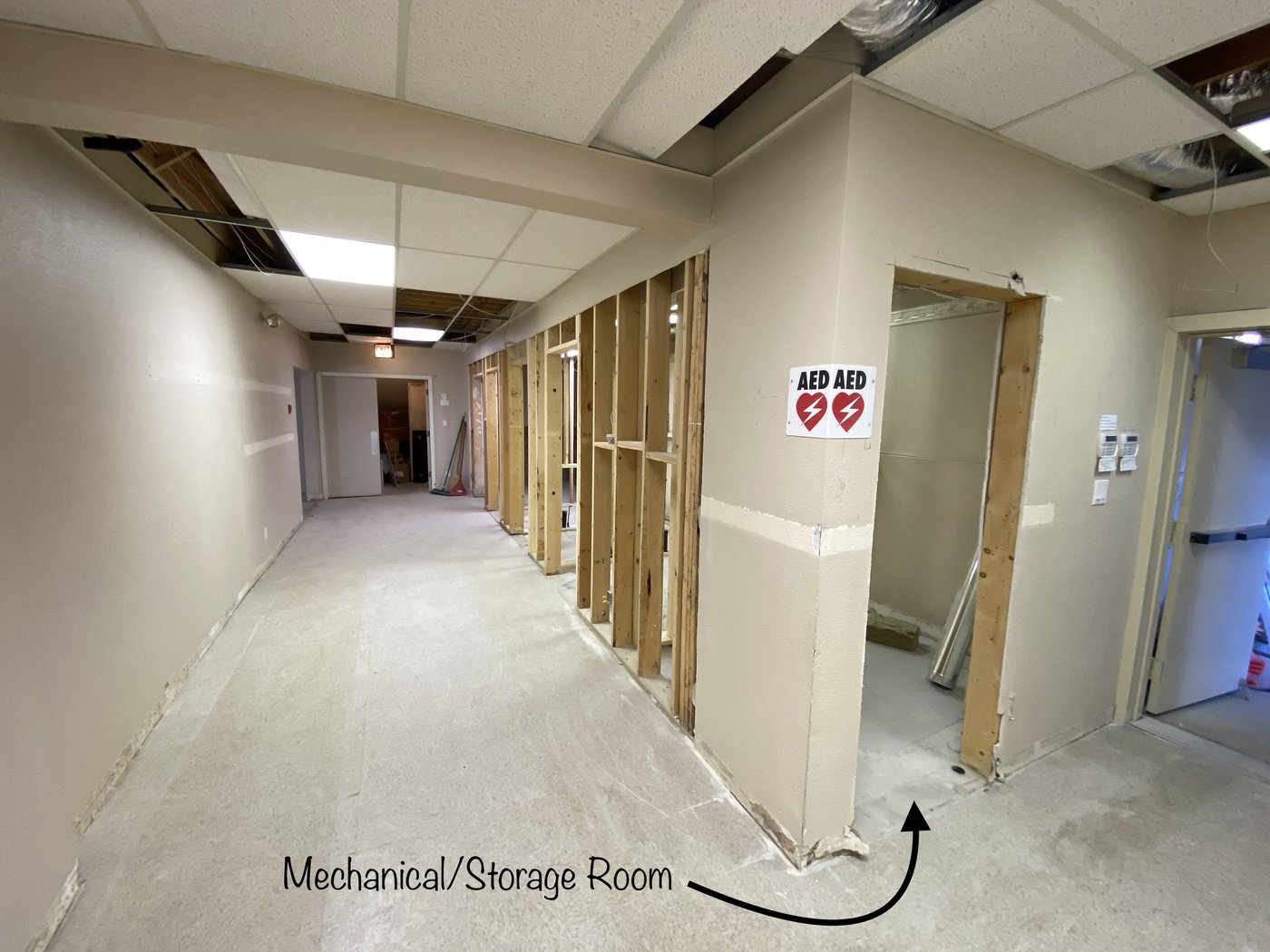 Our HRV system install is in the works: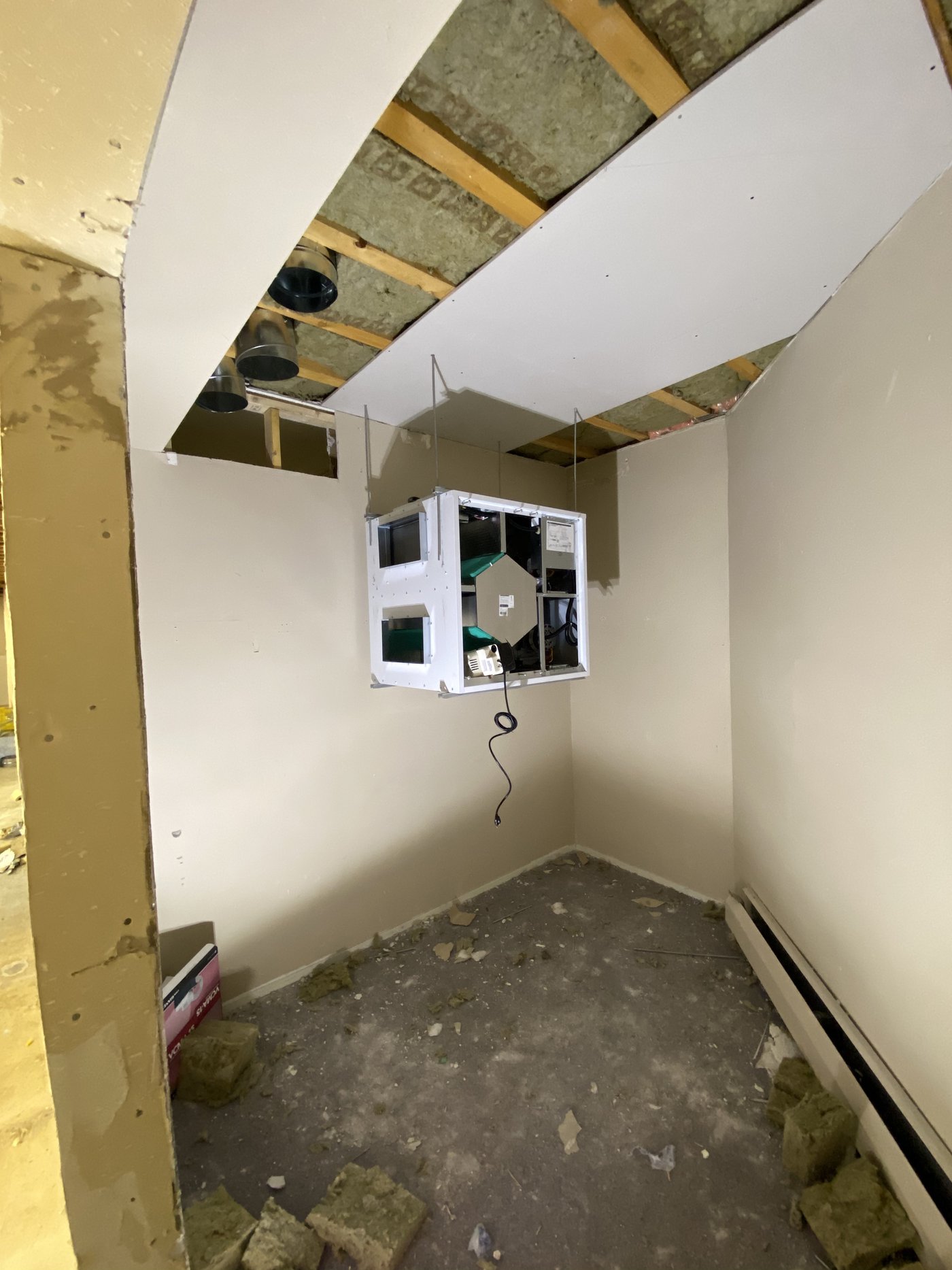 Bathroom concrete is in, wall floor plates are located, and the bathroom HRV ducting is coming along nicely!!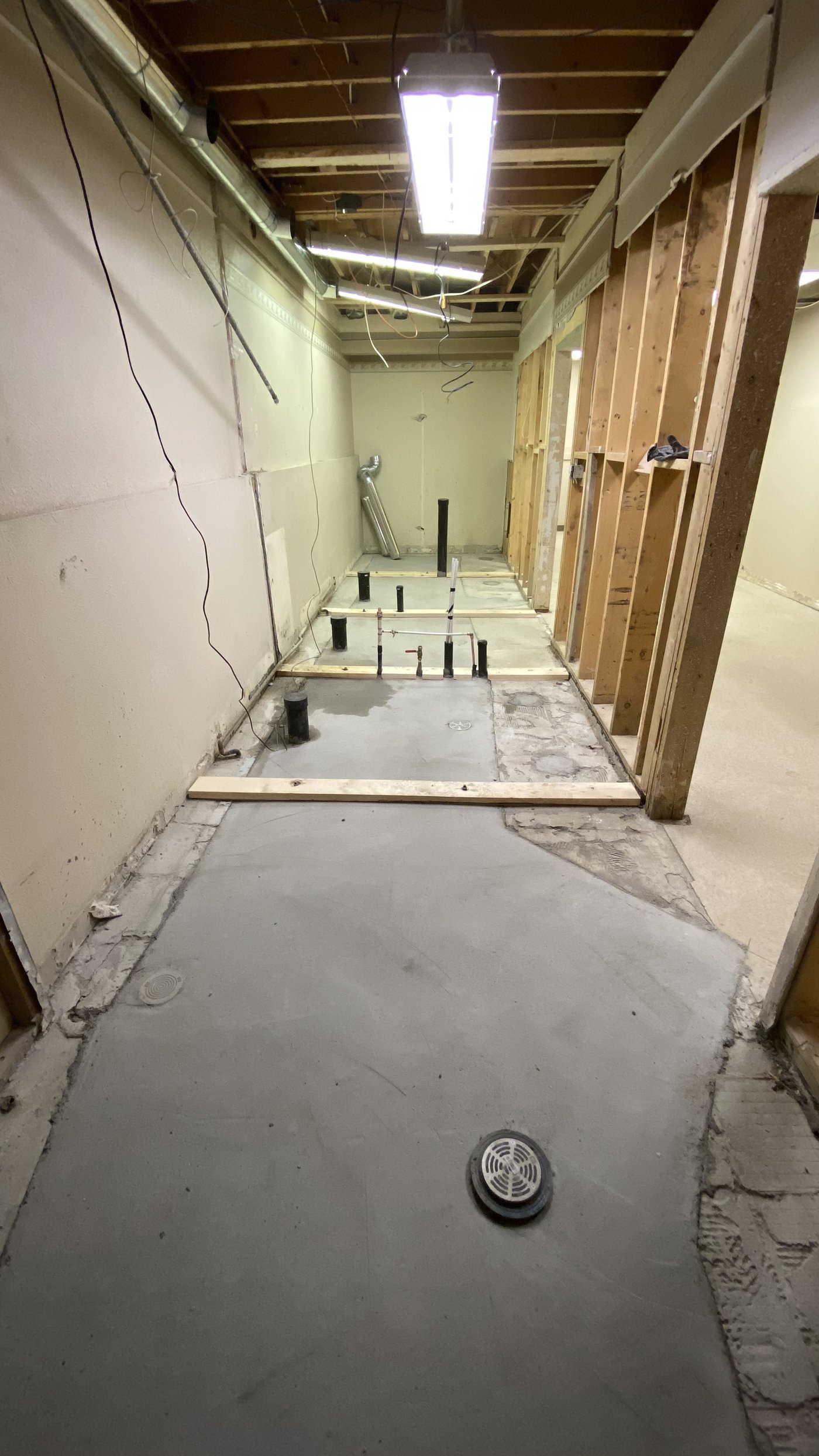 Plumbing is nearing completion!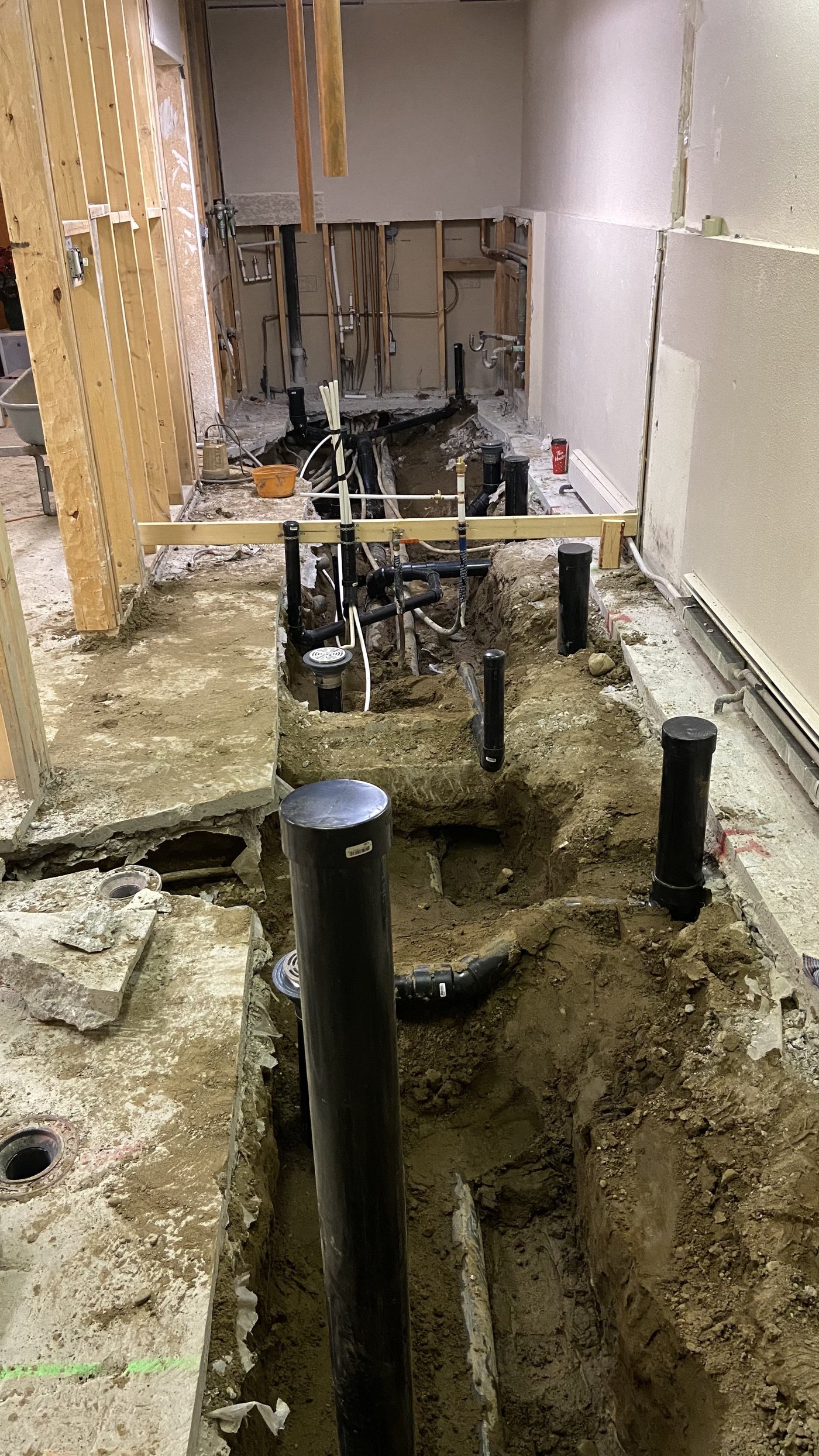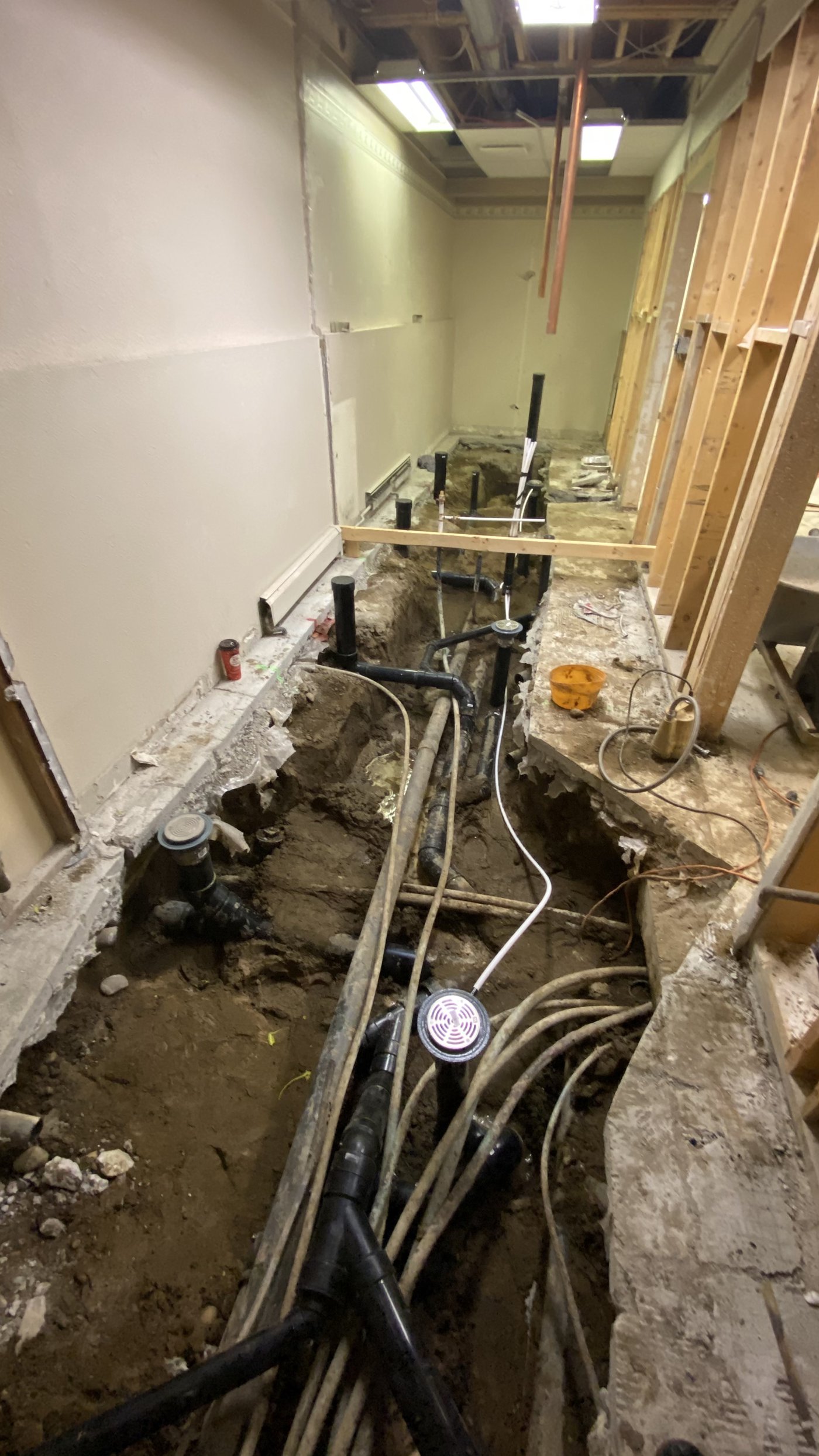 Lots going on in the main room:
Small storage room framed in: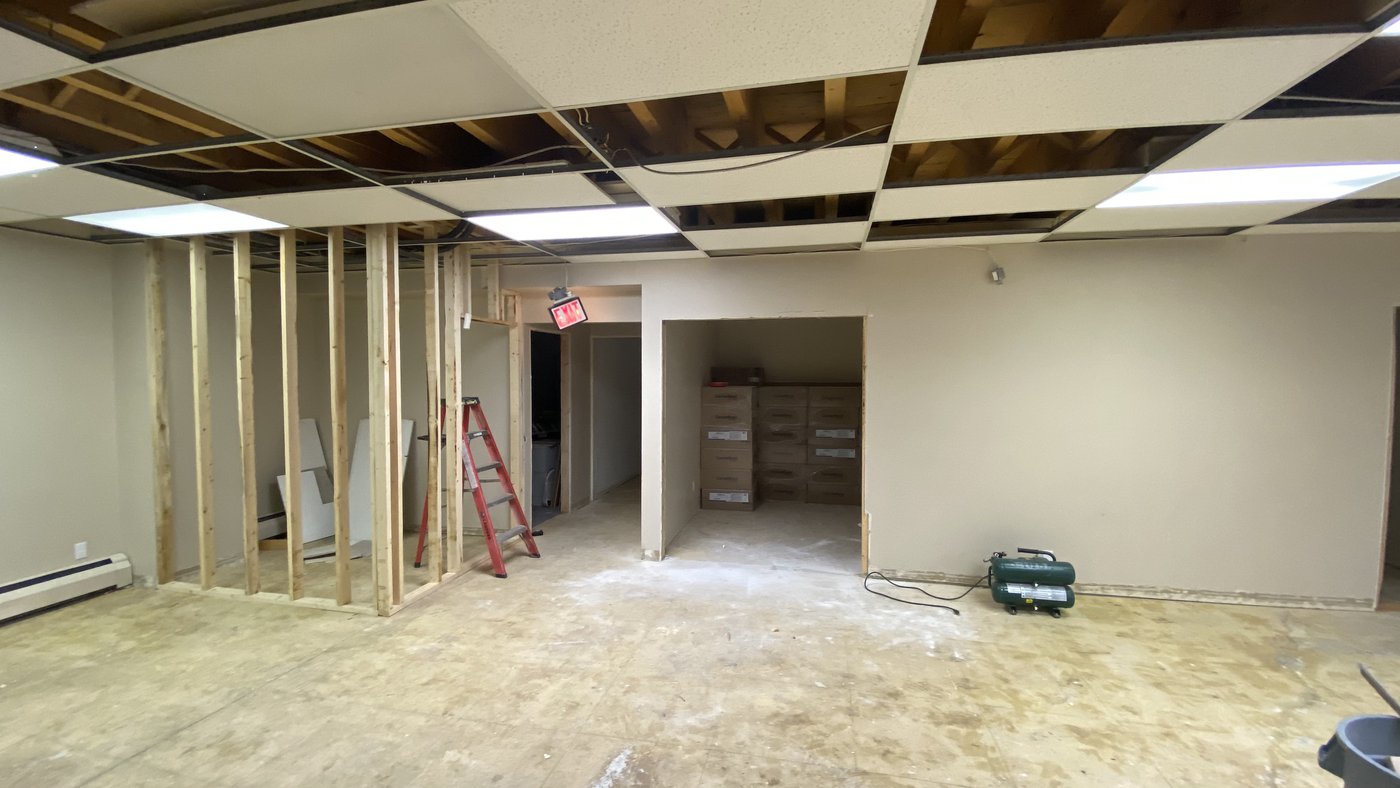 Feature wall doors being moved/removed: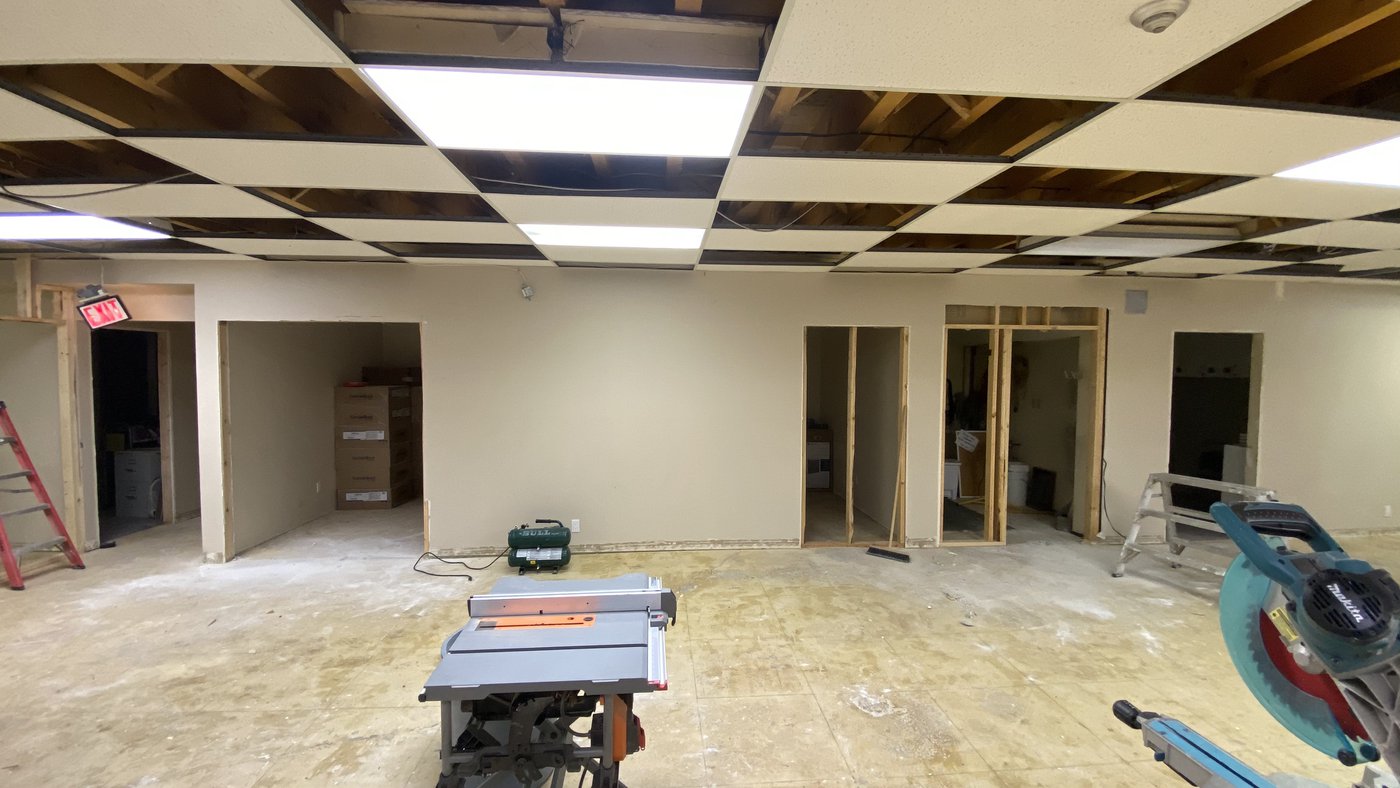 The smell of fresh lumber is in the air!: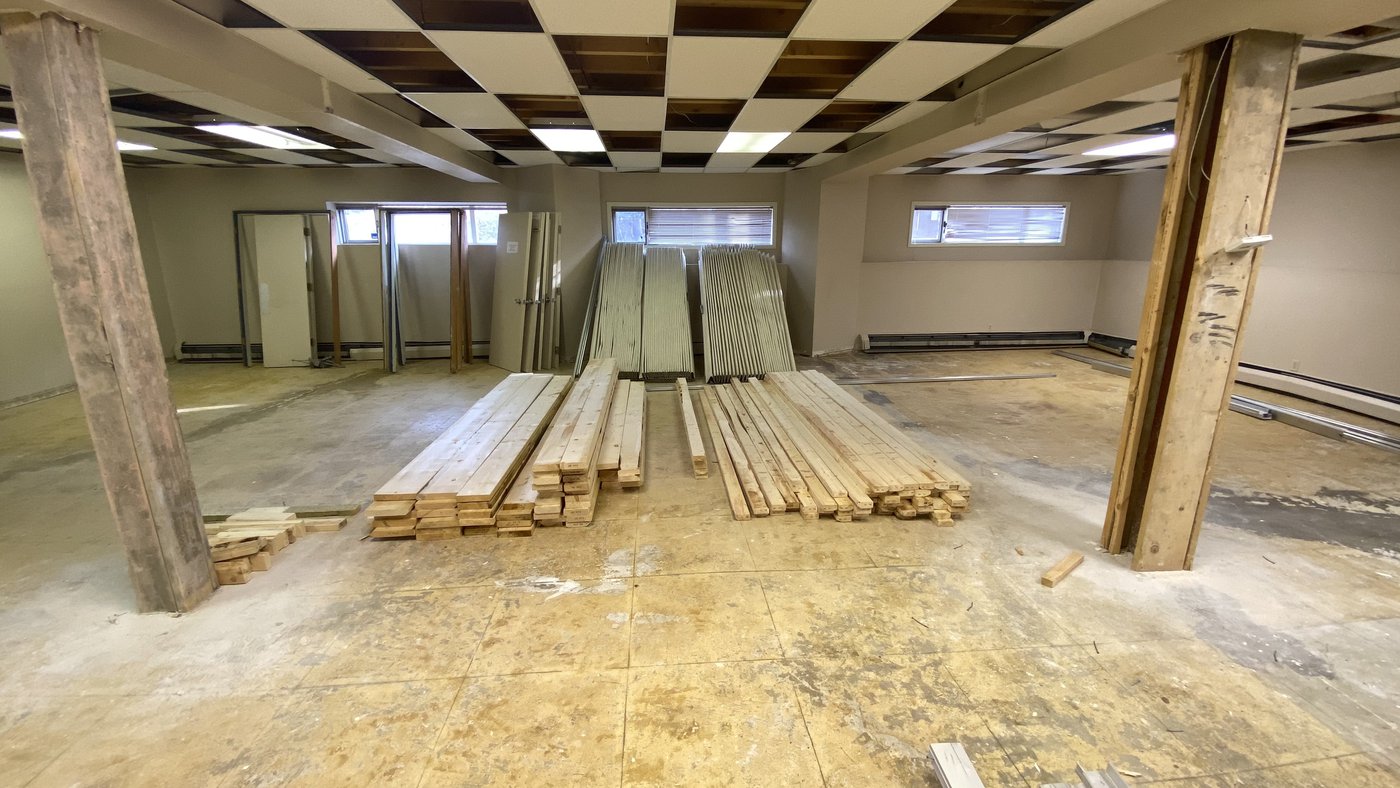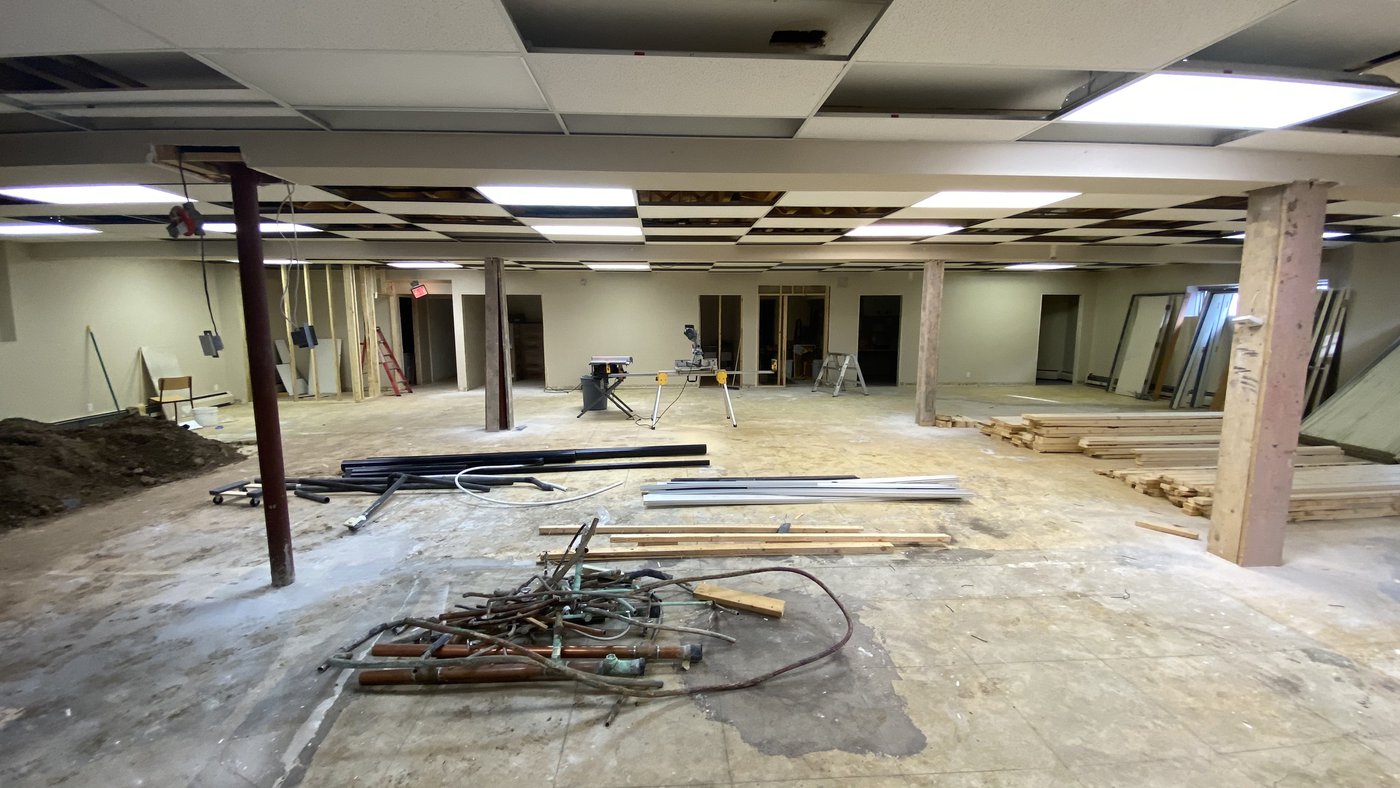 Check back again! We'll update this page regularly so you can follow along with us!
Demolition stage: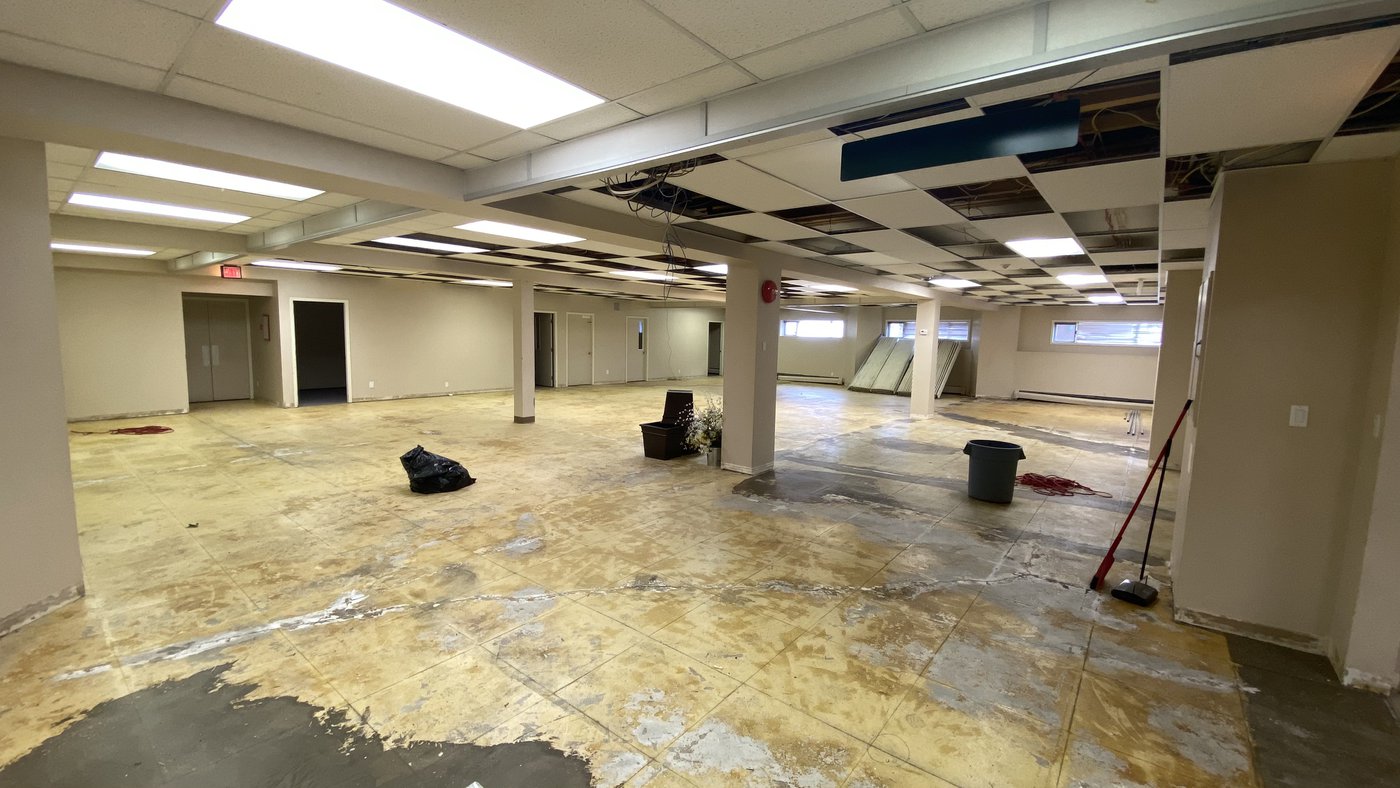 A huge thank you to the volunteers who have put in lots of hours to get our basement ready for this project!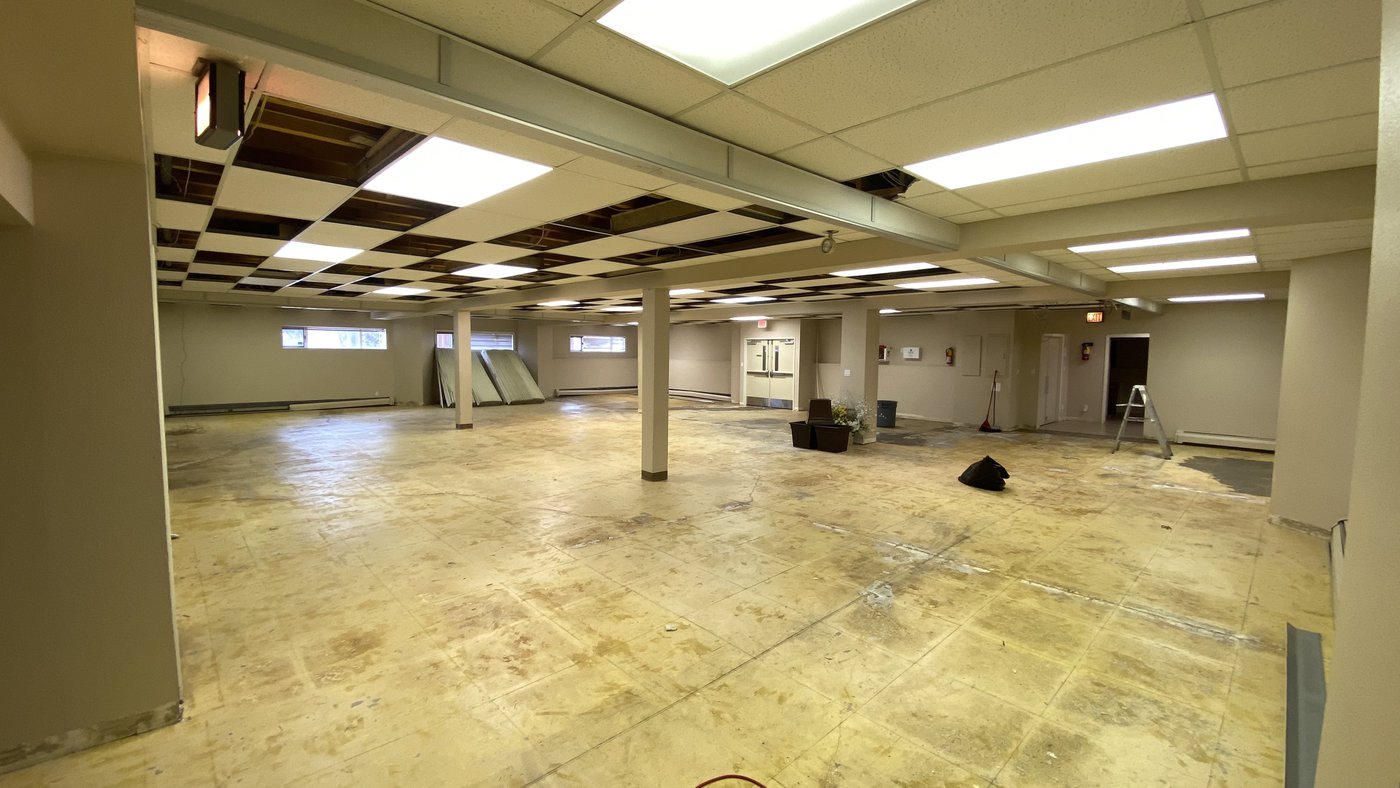 (Unconventional Staff Meeting):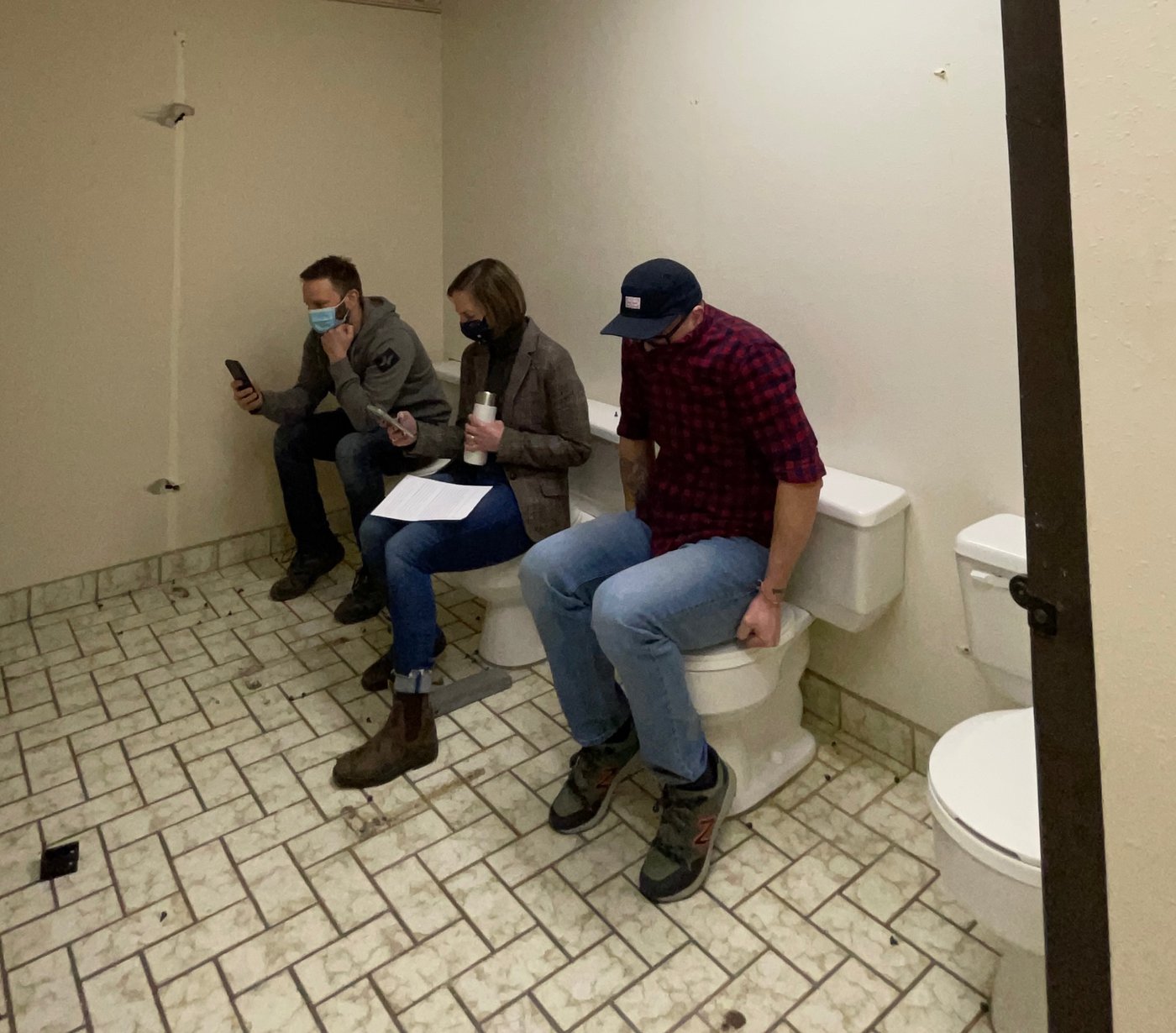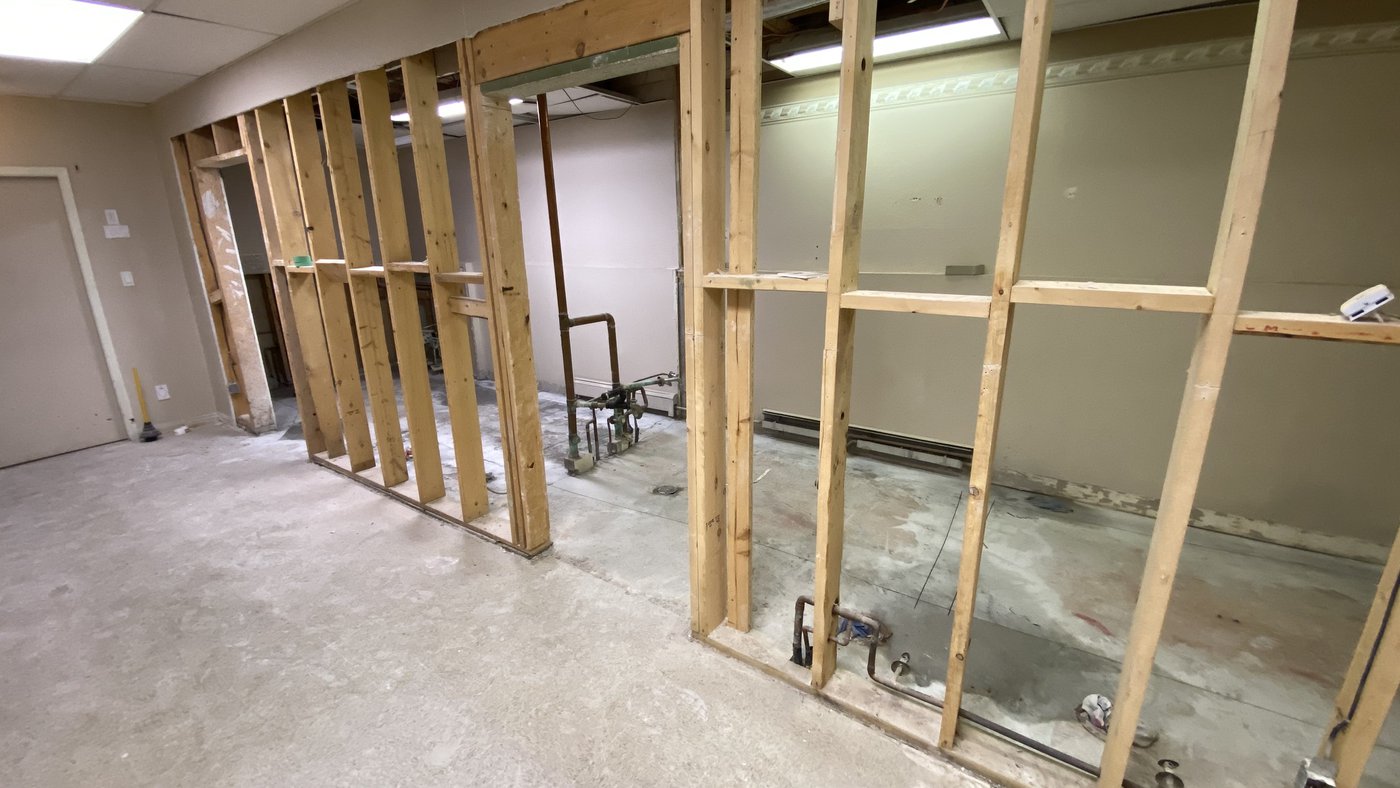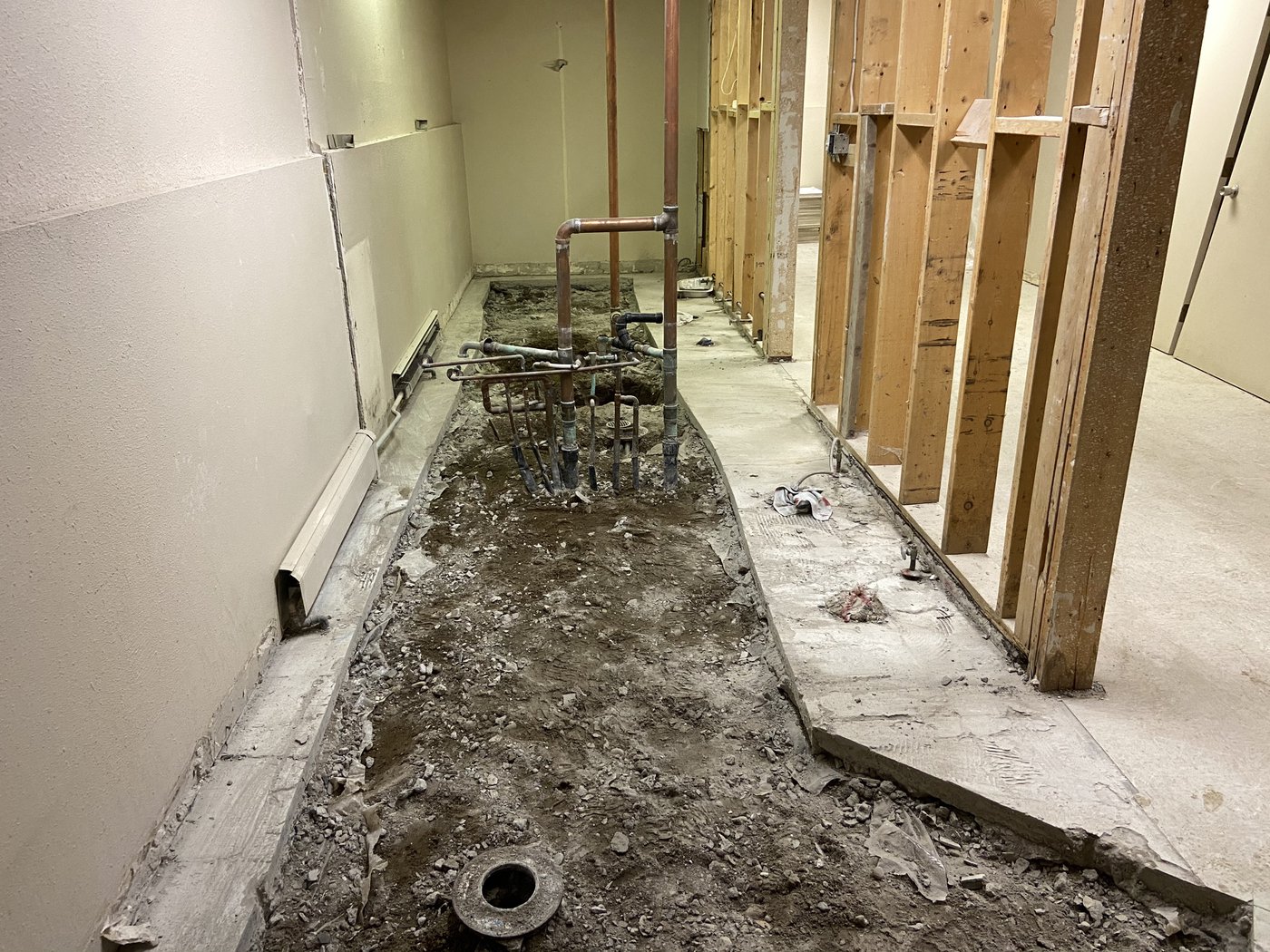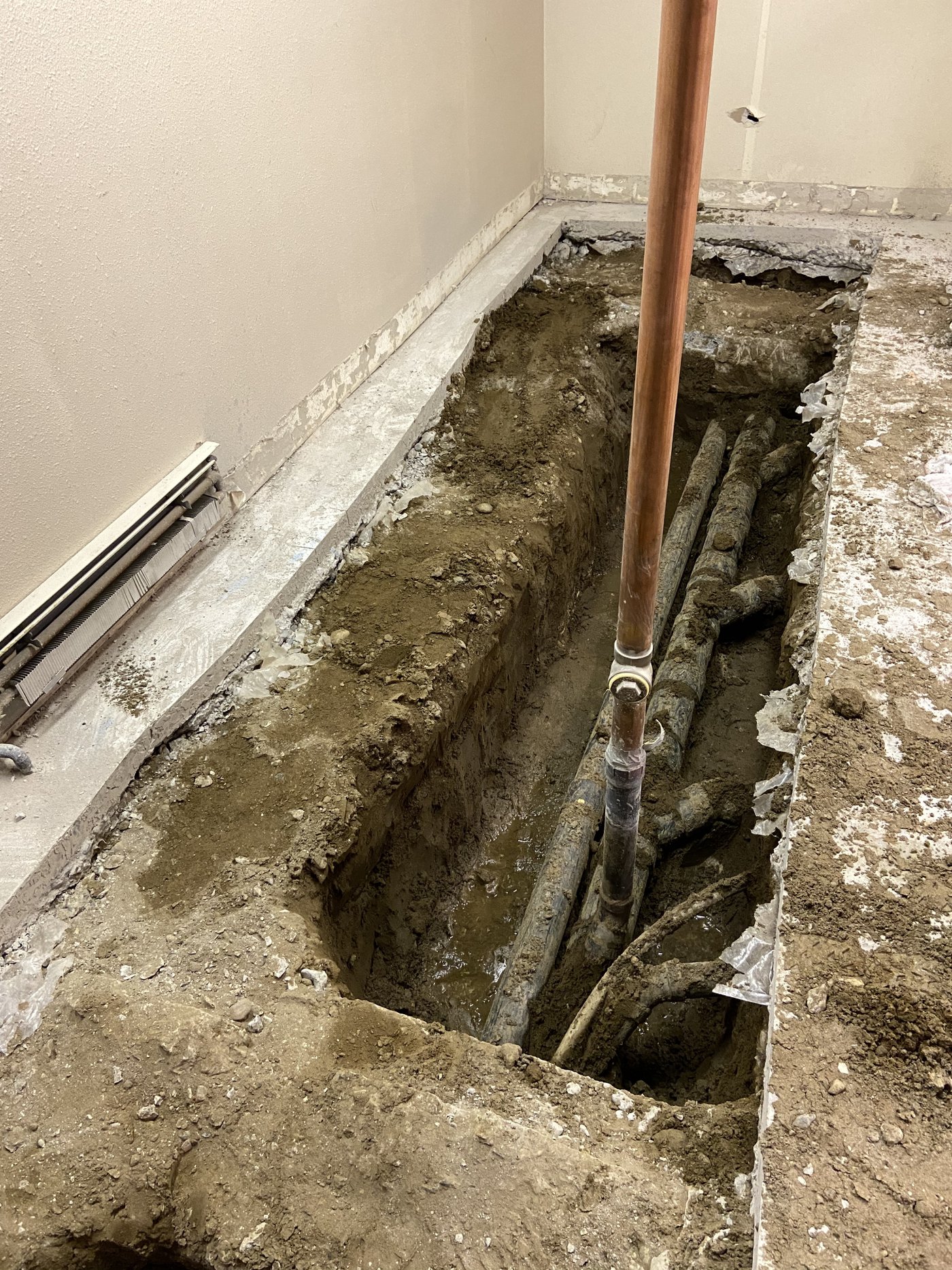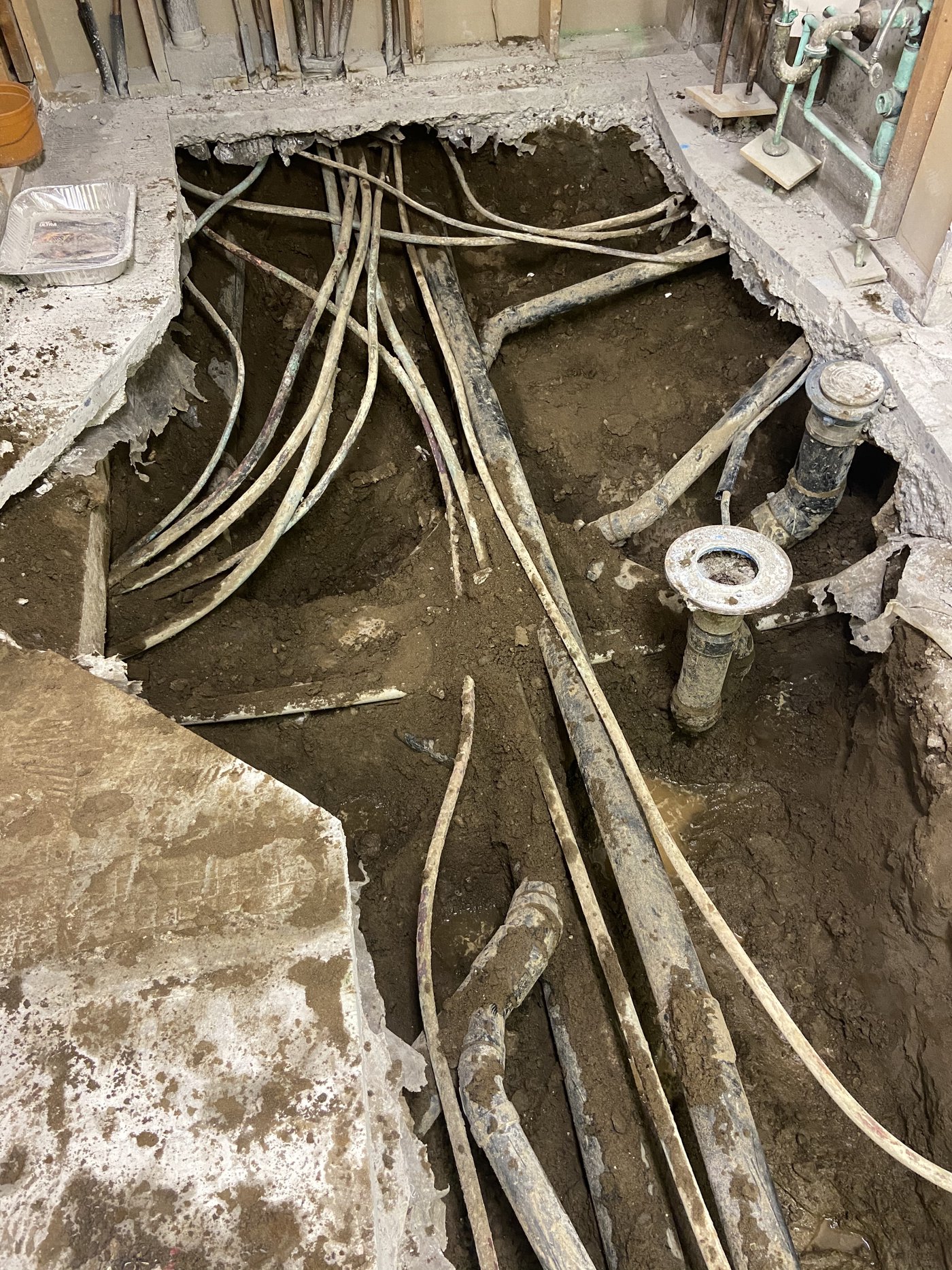 floor plan drawing for bathrooms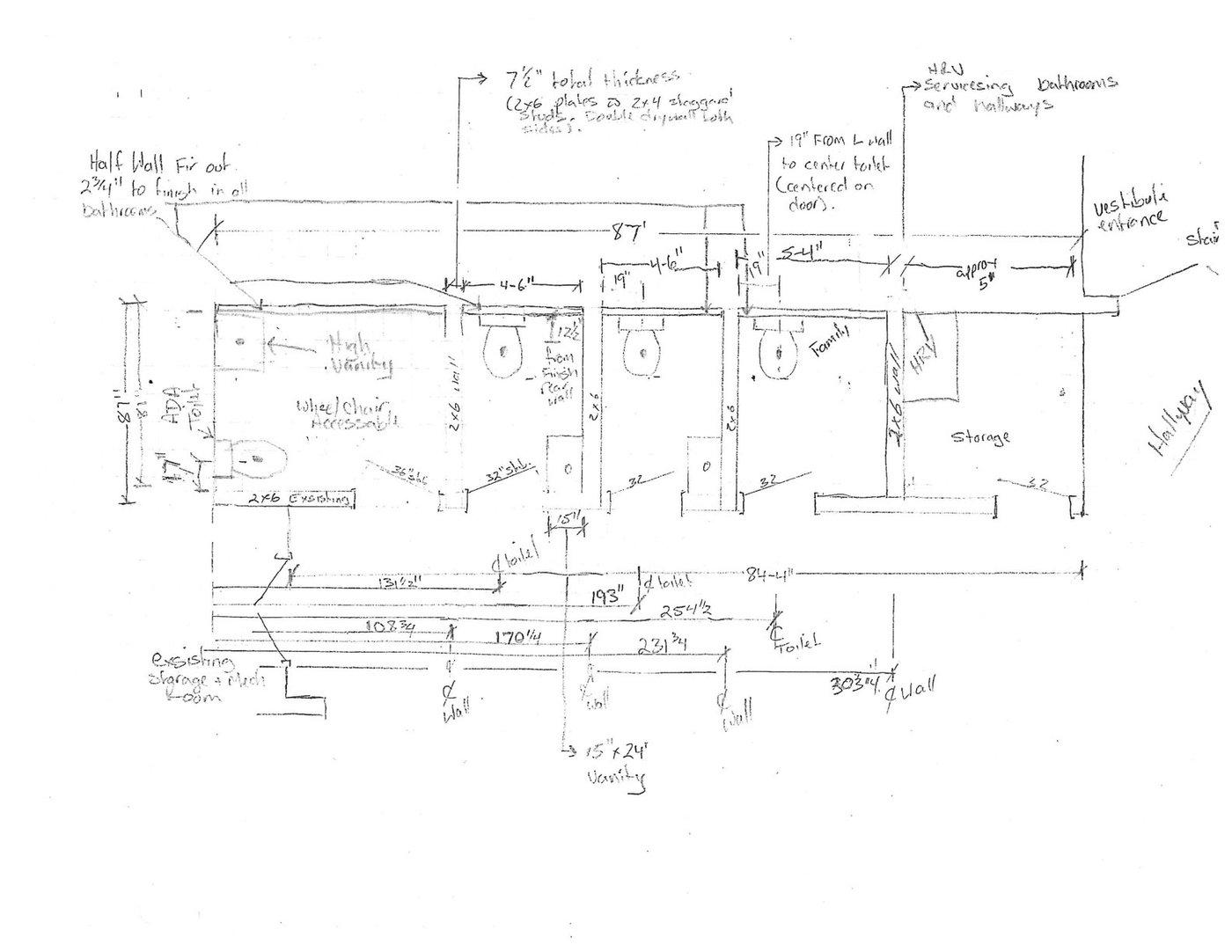 Our plan is to have 4 separate (single) bathroom stalls.
The bathroom on the far left of the picture (end of the hallway near main room) will be a large accessible washroom.
The two middle bathrooms will be simple stalls
The fourth bathroom (on the right side) will be a slightly larger bathroom with a toddler change table.
On the far right (corner) will be a small mechanical/storage room where we will have a small HRV unit to provide airflow for the hallway and bathrooms.
How it started: